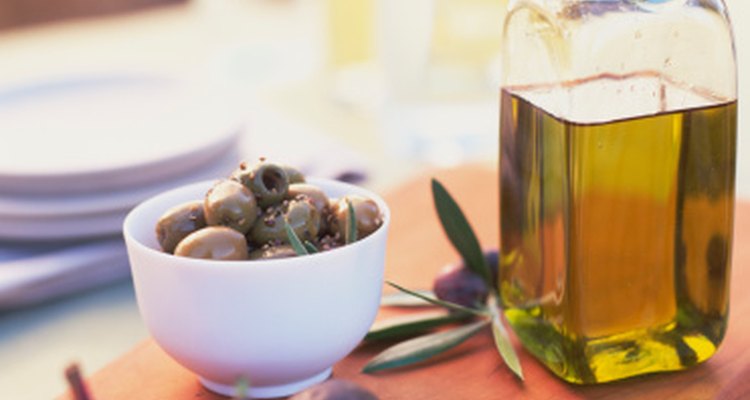 Kraig Scarbinsky/Digital Vision/Getty Images
Olive butter is a thick moisturizer for the skin. Unlike lotion, olive body butter will not wash off your skin easily, making it a rich emollient, which is good for very dry skin. Esthetician Keeley Selvage says lotions are typically made of 70 to 90 percent water, which makes them more water soluble. Butter gets rid of the water and preservatives leaving you with a rich, thick substance made mainly of oil. Selvage says the body butter may feel heavy at first, but easily soaks into your skin in a few minutes.
History
The olive tree is one of the oldest known cultivated trees in the world, spreading from its native land of Asia Minor to the Mediterranean over 6,000 years ago. Muhammad, the prophet of Islam, advised his followers to put olive oil on their bodies, and he applied the oil to his head. Since then, olive oil is found in many religions and used in religious ceremonies as an anointing oil. According to NaturalSkinCareSecrets.com, Cleopatra used olive oil as a beauty product over 5,000 years ago. Many people of the Mediterranean believe olive oil keeps the skin and body young, and that it not only works topically but also from the inside out. This is one reason the Mediterranean diet contains a large amount of olive oil.
Function and Ingredients
Olive butter is used to increase the skin's moisture by delivering moisturizing oils to the surface of the skin, then locking it in with waterproof butter. Olive butter is made using a Shea butter base then adding olive oil as a carrier oil. Selvage says you can incorporate cornstarch into the mixture if the basic butter and oil mixture is too greasy for your skin.
Features
Olive oil is a natural, hypoallergenic way to moisturize your skin, according to OliveOilSource.com. Extra virgin olive oil contains antioxidants, including vitamins A and E, to help repair and renew skin that has been exposed to harsh, dry weather, sun and air pollution. According to OliveOilSource.com, these antioxidants stimulate cells naturally to return skin to a "firmer, smoother and healthier state."
Considerations
Olive butter should be used on very dry skin. The rich emollients in the Shea butter may be too heavy for oily skin. Olive butter is best for the body rather than the face since the thick consistency of the butter may clog pores and lead to breakouts. Selvage says butters are good for those who wash their hands often because the butter is less likely to wash off the hands than a lotion.
Benefits
Olive butter contains the moisturizing and antioxidant properties of olive oil with the deep moisturizing and skin nourishing qualities of Shea butter to create an extra-rich emollient for the skin. In a study performed by U. Kiechl-Kohlendorfer et.al. at the Innsbruck Medical University in Austria, the skin integrity of pre-term infants was tested using a water-in-oil emollient cream and an olive oil cream, and comparing the skin of both groups with the control group's, which did not receive cream. The study lasted four weeks, and found the olive oil cream to be superior to the emollient cream and that topical skin therapy lowers the risk of dermatitis.
References
Writer Bio
Based in Dayton, Ohio, Sari Hardyal has been writing fitness, sports, entertainment and health-related articles for more than five years. Hardyal holds a Bachelor of Science in mass communication from Miami University and is pursuing her master's degree in occupational therapy and her doctorate in physical therapy. She is a certified personal trainer with the National Federation of Professional Trainers.
Photo Credits
Kraig Scarbinsky/Digital Vision/Getty Images