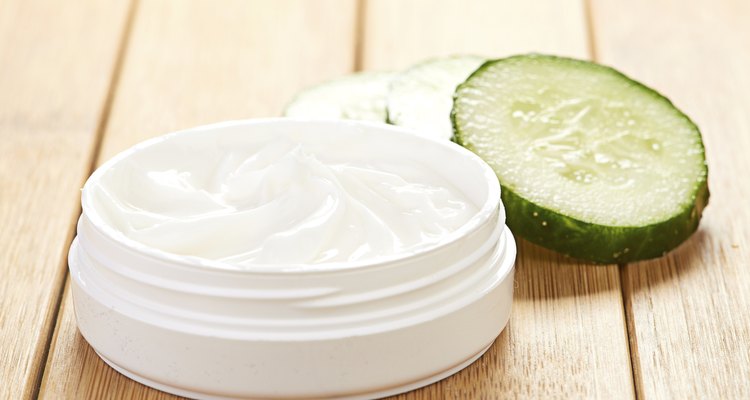 merznatalia/iStock/Getty Images
CBS reports that women spend $60 billion per year on beauty products, as of 2012 figures -- and they're not alone, as YouGov notes that 33 percent of men used one or two beauty products per day in 2013. If you'd rather not contribute to that astronomical dollar amount, you can turn to homemade products. These do-it-yourself solutions not only take strain off your wallet, they offer eco-friendly, all-natural alternatives to chemical-heavy, off-the-shelf products.
A Creative Cleanser
To concoct a homemade facial cleanser, start with a small spice shaker filled with baking soda. Separately, add a few drops of pure essential oil to a small, dropper-style bottle of jojoba oil, which serves as a moisturizing, skin-balancing and anti-microbial agent. Antibacterial lavender or eucalyptus oils do the trick here, as do acne-fighting tea tree or anti-inflammatory Roman chamomile oils. When you're ready to wash your face, sprinkle a few shakes of baking soda into the palm of your hand and add three to five drops of the oil mixture, plus a dollop of pure honey. Massage this tingly, all-purpose cleanser into damp skin and rinse with warm water.
Totally Natural Toner
You don't have to be a chemist to make toner at home -- this simple DIY recipe only requires two ingredients. In a spray bottle, mix about 2 tablespoons of raw apple cider vinegar with ½ cup of moisturizing liquid aloe vera. Close your eyes and mist the mixture onto a cotton pad, and then pat your face with the pad after washing with your homemade cleanser. As an alternative, use plain witch hazel as a toner for oily skin.
Make Your Own Moisturizer
Turn to fruits and foods to combat dry skin -- thoroughly blend ½ cup of pumpkin puree with a whole pureed banana, ¼ cup of yogurt and 2 tablespoons of pumpkin seed butter. Each day or every few days, depending on your skin's dryness, rub this mixture onto your face and let it rest for about 20 minutes, and then rinse it away with warm water. This cocktail packs plenty of skin-friendly vitamin A, collagen-boosting vitamin C and soothing zinc.
More Homemade Tips
Use honey labeled as raw, unpasteurized or unfiltered as a basic DIY facial cleanser. Simply thin out ½ teaspoon of honey with a few drops of water, massage it into your skin and rinse with warm water for a natural, gentle cleanser that reduces breakouts and balances oily skin. Raw honey also serves as a gentle, antifungal homemade shampoo when mixed with filtered water at a ratio of 1 tablespoon honey per 3 tablespoons of water. Dissolve one capsule of vitamin E into 2 ounces of jojoba oil for a homemade makeup remover.
References
Resources
Writer Bio
In addition to fitness experience including USFCA fencing discipline, stage combat, track and equestrian training, Dan has contributed health and fitness-oriented content to AZCentral, SportsRec, JillianMichaels.com, ModernMom, The Nest and more.
Photo Credits
merznatalia/iStock/Getty Images