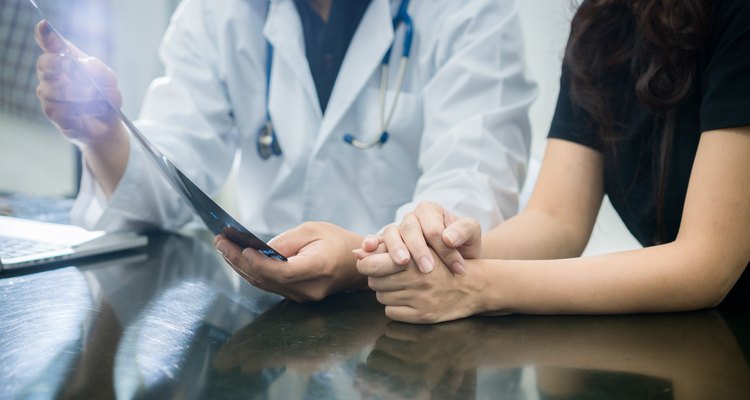 NanoStockk/iStock/GettyImages
Medicaid Helps Low-Income Families Get Needed Healthcare
Medicaid is a federal and state program to provide healthcare to people with low incomes. It provides necessary care with mandatory benefits from the federal level and may provide optional benefits on the state level as well. Medicaid provides services to children and pregnant women of low-income families. It also provides medical care for people over the age of 65 and people with disabilities, helping give families with little assets and money peace of mind.
What Is Medicaid and What Does It Cover?
Medicaid, on the federal level, covers many mandatory health services including inpatient and outpatient hospital services, home health, physicians and nursing home services as well as rural health clinic services. It also covers lab work and X-rays and transportation to needed medical facilities. For pregnant women, it covers family planning, nurses/midwives, birth centers and tobacco cessation counseling. For children, it covers pediatric and family nurse practitioners.
On the state level, the benefits are determined under Medicaid by each individual state. The optional services that may be included are prescription drugs, speech, hearing and language disorder services, podiatry, optometry, dental and prosthetics, as well as eyeglasses. Chiropractors, private duty nursing, personal care and hospice may also be included. Institutions for mental illness in those over 65 and inpatient psychiatric services for those under the age of 21 may be included in your state services for Medicaid.
To view the information and services available in your state, visit the website at Benefits.gov.
How Does Medicaid Work With Assisted Living and Nursing Homes?
If you have a family member with few assets other than her home, Medicaid can help pay for her medically necessary care. Assisted living services and nursing homes alike offer long-term care with benefits from Medicaid. It covers medical services for a person who has low income and is ill or has a disability.
State funding pays for nursing facilities and long-term care such as adult foster homes, as well as services for people who qualify and live in their own homes. These in-home services may be a home health aide to attend to medical needs, medication management and possibly housekeeping services for those in need.
How Does Medicaid Work With Medicare?
Medicaid covers a minimum of the same medical needs that Medicare covers, as well as premiums, co-payments and deductibles associated with Medicare if a person is enrolled in both programs. Medicare alone is for everyone 65 or older, and isn't based on their assets or income.
Medicare doesn't usually cover long-term care in assisted living or nursing homes or in home care, but Medicaid does cover these fees. Medicaid may also cover the cost of prescription drugs that isn't covered under Medicare.
Medicare pays for expenses first; if you have dual coverage with Medicaid and Medicare, and then Medicaid pays the remainder after all other insurance plans pay a portion of the medical bills.
Who Qualifies for Medicaid?
A single person applying for Medicaid is allowed $2,000 in assets. There is a list of exempt assets that do not count toward the total of $2,000. Married people must include the assets of both spouses, with an allowance of $3,000.
Exempt items not counted as assets include the applicant's home, a vehicle, household property and goods for daily use, engagement and wedding rings, life insurance with a value of $1,500 or less, and a funeral or burial fund of up to $1,500 plus a burial plot.
A person may actually transfer or give away assets to qualify for the Medicaid guidelines without any repercussions.
If you are above the asset limit to qualify for Medicaid, in some states you can be considered medically needy. The Medicaid spend-down program covers this aspect when your medical needs are more than the amount of the income and assets that disqualify you for Medicaid.
What Are Medicaid Eligibility Levels According to Income?
Each state has a schedule of income levels for Medicaid. The level is based on the modified adjusted gross income (MAGI) and is required by the Affordable Care Act. The schedule lists coverage groups by the age and needs of children ages birth to 18, for parents or caretakers and for an expansion to adult Medicaid. All figures are a percentage of the federal poverty levels for each state. For example, as of 2016, the federal poverty level of Alaska for a family of four is $27,950, and it's $30,380 in Hawaii. The remaining 48 states and the District of Columbia have a federal poverty level of $24,300. For your reference, this chart is available at Medicaid.gov.
References
Writer Bio
Mary Lougee has been writing for over 10 years. She holds a Bachelor's Degree with a major in Management and a double minor in accounting and computer science. She loves writing about careers for busy families as well as family oriented planning, meals and activities for all ages.