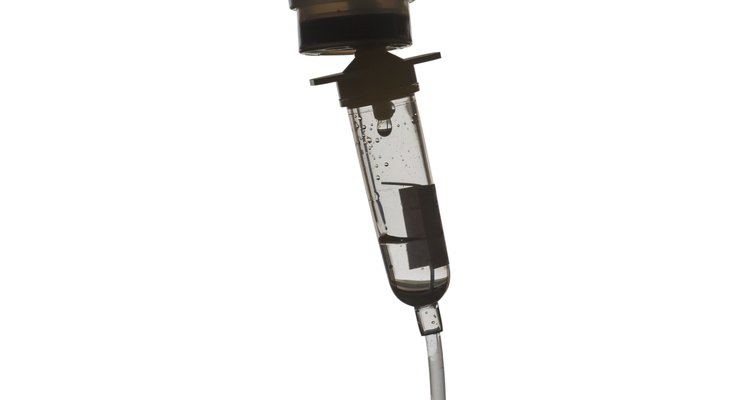 Mathisa_s/iStock/Getty Images
A nutritional supplement marketed by the Abbott Corp., Jevity supplies a dose of protein and fiber, and key vitamins and minerals. While anyone can technically drink Jevity, it's marketed toward people who are tube-fed or who require the supplement as their sole source of nutrition. The product comes in different calorie formulations. Knowing the nutrition information can help you choose the right one for you or your loved one.
Calorie Formulations
The Abbott Corp. offers Jevity in three caloric formulations. The Jevity 1 Cal has 1 calorie per milliliter of the liquid, the 1.2 Cal has 1.2 calories per milliliter and the 1.5 Cal has 1.5 calories per milliliter. This translates to 250 calories in an 8-ounce serving of 1 Cal, 285 calories for an 8-ounce serving of 1.2 Cal and 355 calories in 8 ounces of 1.5 Cal.
Fat and Protein
An 8-ounce serving of Jevity 1 Cal contains 8.2 grams of fat, the 1.2 Cal contains 9.3 grams of fat per serving and the 1.5 Cal has 11.8 grams of fat per 8-ounce serving. Protein is a nutrient essential for survival, and the amount in Jevity depends on the caloric formulation. Eight ounces of Jevity 1 Cal contains 10.4 grams of protein. The same amount of Jevity 1.2 Cal has 13.2 grams of protein and the Jevity 1.5 Cal has 15.1 grams of protein per 8-ounce serving.
Fiber
Fiber is an essential nutrient that promotes normal digestion, but the amount that a bedridden or nutritionally compromised person needs can vary greatly. This nutrient is crucial for bed-ridden patients especially because it keeps the bowels moving normally. A 2012 article published in "Food and Nutrition Sciences" notes that soluble fiber can help bulk up stool in tube-fed patients with diarrhea. An 8-ounce portion of Jevity 1 Cal contains 3.4 grams of fiber, and the same amount of 1.2 Cal has 4.3 grams of fiber. Jevity 1.5 Cal has 5.3 grams of fiber per 8-ounce serving.
Vitamins and Minerals
Because tube-fed and nutritionally compromised people almost always have an underlying medical condition that prevents them from eating normally, it can be tough to ensure that they're getting adequate nutrition. All the caloric formulations of Jevity supply vitamins A, B-6, B-12, D, E and K, and minerals such as calcium, magnesium, iron and zinc. An 8-ounce serving of Jevity supplies more than a day's worth of vitamin C, as well.
References
Writer Bio
Sara Ipatenco has taught writing, health and nutrition. She started writing in 2007 and has been published in Teaching Tolerance magazine. Ipatenco holds a bachelor's degree and a master's degree in education, both from the University of Denver.
Photo Credits
Mathisa_s/iStock/Getty Images