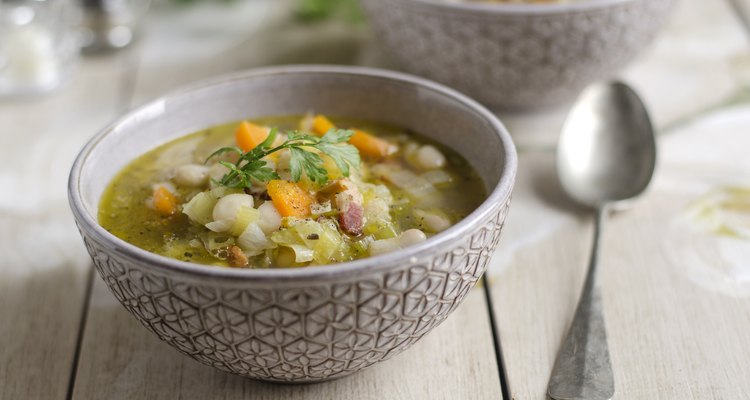 martinturzak/iStock/GettyImages
The Perfect Meal for a Cold, Wet Day
A big baked ham is a wonderful family meal, but the prospect of leftovers can be almost as enjoyable. One of the most comforting things you can make from it is ham and bean soup, an old-school favorite that's the perfect antidote to a cold and rainy day. This Crock-Pot recipe takes just moments to prepare, and then it spends hours simmering gently as it fills your house with the smell of home cooking.
Total Time: 10 hours, 10 minutes | Prep Time: 10 minutes | Serves: 6 to 8
1 meaty ham bone, left over from a baked ham

3 cans (15.5 ounce) white navy beans or mixed beans, rinsed

3 medium carrots, diced small (approximately 2 cups)

1 large yellow onion, diced

2 stalks celery, sliced or finely chopped

2 bay leaves

1/2 teaspoon fresh-ground black pepper

Kosher salt, to taste

If there's any sauce or glaze remaining on the ham bone, wipe or rinse it off. Place the ham bone in the bottom of a 6- or 7-quart slow cooker. Add the remaining ingredients, except for the kosher salt. Add 6 cups of water.

Place the lid on the slow cooker. Set it on low, and cook the soup for 8 to 10 hours. Remove the bone from the Crock-Pot and set it aside to cool for a few minutes on a cutting board. If you want a thicker, heartier soup, mash 1/4 to 1/3 of the beans at this point, and stir. If you prefer a brothy soup, leave the beans intact.

Once the ham bone is cool enough to handle, strip the meat from the bone—it should come off quite easily—and chop it, then add it back into the soup.

Taste the soup, and add salt if it's needed. Often the ham bone will provide as much salt as you need, but it's always good to double-check so you'll know for sure that your soup is properly seasoned. Serve the soup hot, with dinner rolls, biscuits or corn bread.

References
Writer Bio
Fred Decker is a trained chef and prolific freelance writer. In previous careers, he sold insurance and mutual funds, and was a longtime retailer. He was educated at Memorial University of Newfoundland and the Northern Alberta Institute of Technology. His articles have appeared on numerous home and garden sites including GoneOutdoors, TheNest and eHow.