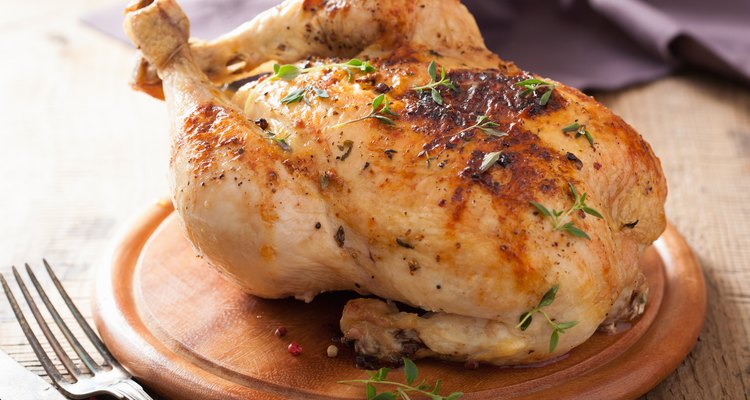 OlgaMiltsova/iStock/GettyImages
Cooking a Whole Chicken in Your Crock-Pot Changes Dinner Forever
Heat and time may be why you'd rather pick up one of those expensive rotisserie chickens from the grocery store than make a whole chicken at home. But if you have a crock-pot, you can save time and money using it to cook your chicken. Not only can you cook a whole chicken in a crock-pot, when done right, you can even get the crispy skin everyone fights over.
This chicken is so good, you'll never need to buy the rotisserie version again.
Total Time: 4 to 6 hours | Prep Time: 10 minutes | Serves: 4
whole chicken,

3 to 4 pounds
1 teaspoon kosher salt 1/2 teaspoon black pepper
In a 6- to 8-quart crock-pot, place a small metal rack for your chicken to sit on.

Remove the giblets from the center of your chicken.
Season the chicken inside and out with salt and pepper.
Place the chicken breast-side-up in the crock-pot on top of the rack.
Cover and cook on low heat for 4 to 5 hours.
This recipe uses only salt and pepper, but you can use any of your favorite chicken or turkey rubs to add flavor. For example, brown sugar, chili powder and salt add a sweet and spiciness to your chicken. For a Moroccan flare, mix paprika, cinnamon, ginger, cumin, salt and pepper.
The nice thing about cooking an entire chicken is that there are so many uses for the leftovers. Make tacos with the meat, top a salad or use as the protein for a casserole.
And once the meat is all gone, use the carcass to make your own stock by placing it in a large saucepan with water and seasonings such as onions, carrots, bay leaves and garlic, bringing to a boil and then simmering for a few hours. Be sure to skim the fat off the stock as it cooks. Store your stock in an air-tight container in the refrigerator for four days or up to three months in the freezer.
References
Writer Bio
Jill Corleone is a registered dietitian and health coach who has been writing and sharing her love of food, nutrition and health with anyone who'll listen for almost 20 years. Her work has been featured on the Huffington Post, Diabetes Self-Management and Working Mother.