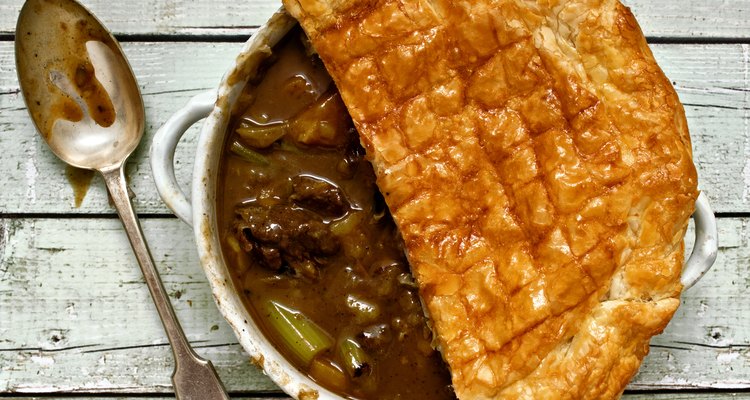 zkruger/iStock/GettyImages
Who Says You Can Only Use Chicken in a Potpie?
We've all been there. Utter the word "leftovers" and the whole family groans. Maybe your older kids and your spouse are wise to the process by now so when they see that mouthwatering roast beef hit the supper table on a weekend, they immediately begin worrying what form it might take on Monday or Tuesday. What's a mom to do?
Turn it into potpies. This recipe is so good, your family will completely forget that it's the beef's second incarnation.
Total Time: 1 hour | Prep Time: 30 minutes | Serves: 4 to 6
2 tablespoons butter

1 tablespoon olive oil

1/2 cup onion, chopped

1 large potato, skin removed and diced

3 cloves garlic, minced

1/2 teaspoon oregano

Salt and pepper to taste

2 10.5-ounce cans golden mushroom soup

1 cup water

2 carrots, peeled and chopped

1 cup green peas

1/2 cup sliced mushrooms

2 cups roast beef, cut into bite-sized pieces

1 to 2 sheets pie pastry

1 egg, beaten

Heat the oven to 400 F.

In a large saucepan, melt the butter over medium heat and add the olive oil. Heat until the oil begins to shimmer.

Add the onion, potato and garlic to the saucepan and cook over medium heat until the onion is tender, about 5 minutes.

Season the mixture with the oregano and salt and pepper to taste.

In a large mixing bowl, whisk the soup together with the water.

Add the soup mixture to the saucepan, along with the carrots, peas, mushrooms and beef. Increase the heat to high and bring to a boil. Turn the heat back to medium and cook for 3 to 4 minutes until the carrots begin to soften.

Transfer the soup mixture to a casserole dish large enough to allow at least 3/4-inch of space remaining at the top. Cover the mixture with the pastry and cut slits in the top to allow steam to escape. Flute the edges and brush the beaten egg on top.

Place the casserole in the oven and bake for 30 minutes.

References
Writer Bio
Beverly Bird is a professional writer who is also a practicing paralegal in the areas of divorce and family law. She has offered community workshops for single parents, helping them with the financial and lifestyle issues they often face.