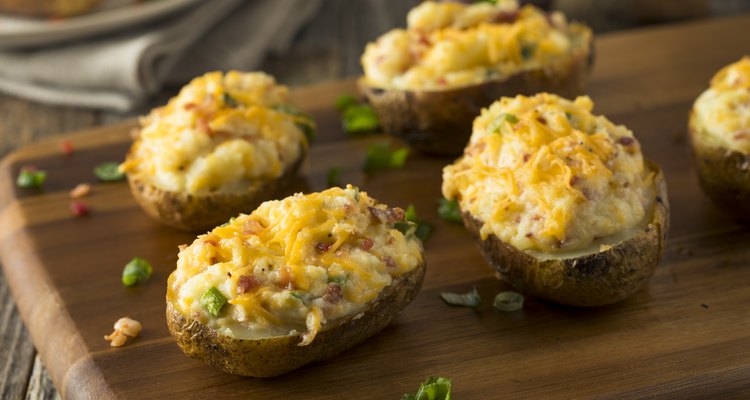 bhofack2/iStock/GettyImages
A Simple Twice-Baked Potato Recipe, Packed with Flavor
Twice-baked potatoes can be as simple or as complex as you like. Some recipes call for just a bit of sour cream and butter while others pack an entire meal into a crispy skin. This recipe uses relatively few ingredients, but the blue cheese and bacon deliver as much flavor as a much busier list of contributors, saving you time on shopping and prep. To make the process even speedier, cook the potatoes ahead of time, then simply scoop them, stuff them and bake them when you're ready for a handy meal. The breadcrumbs make the topping crispier, but you can leave them out for a gluten-free version, or you can crumble a handful of gluten-free crackers and substitute them for the breadcrumbs.
Total Time: 1 1/2 hours | Prep Time: 15 minutes | Serves: 6
3 large russet potatoes

1 to 2 teaspoons olive oil
1/4 cup crumbled blue cheese
3 strips bacon, precooked and crumbled, or 3 tablespoons bacon bits
2 tablespoons butter
1/2 teaspoon salt
Black pepper to taste
2 tablespoons breadcrumbs
Heat the oven to 375F. Poke several holes in each potato to allow steam to escape. Brush or rub a bit of olive oil on the skin of each potato. Place them directly on the oven rack and bake until very soft, about an hour. For the make-ahead version, store the cooked potatoes in the refrigerator until you're ready to use them.

When the potatoes are cool enough to handle, cut them in half lengthwise. Scoop out the contents of each skin leaving a shell thick enough to retain its shape when handled.
Mash the scooped potato pulp and mix it with the blue cheese, bacon, butter, salt and pepper. If you've precooked and refrigerated the potatoes, melt the butter in a small saucepan to help it mix in more easily.
Spoon about 1/3 cup of cheese, potato and bacon mix back into each potato skin. Pack in in tightly. If you have additional filling, divide it among the stuffed potato halves. Sprinkle breadcrumbs onto the potato halves and arrange them on a cookie sheet.
Bake for 15 minutes if stuffing the potatoes right after you cook them, or 25 minutes if you've precooked them and pulled them out of the refrigerator before stuffing them, to allow time for the chilled potato to fully reheat.
References
Writer Bio
Devra Gartenstein is a self-taught professional cook who has authored two cookbooks: "The Accidental Vegan", and "Local Bounty: Seasonal Vegan Recipes". She founded Patty Pan Cooperative, Seattle's oldest farmers market concession, and teaches regular cooking classes.