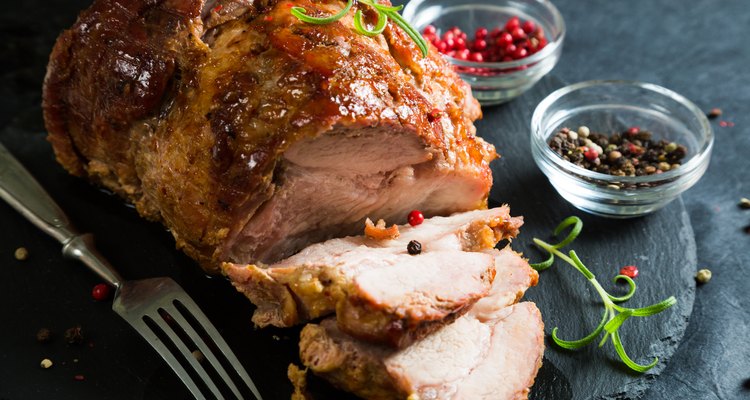 A lighter, fresher take on the traditional ham
A well baked ham is a thing of beauty, but sometimes using your oven just isn't practical: During the summer you might not want to heat up your kitchen that much, and on the major holidays there are a lot of other things demanding oven space. Preparing your ham in the Crock-Pot instead is an ideal alternative, keeping your kitchen cool, your oven available and your life stress-free.
Most recipes result in a sticky-sweet glaze, but this one goes in a different direction. The tart, apple-flavored cider gravy cuts the ham's richness and makes a perfect foil for its sweet and savory flavors.
(Adapted from a recipe at Savvy Eats)
Total Time: 6 to 8 hours | Prep Time: 20 minutes | Serves: 8 to 12
1 ham, bone-in or boneless, 6 to 8 pounds
1/2 cup brown sugar
1 tablespoon dry mustard
1/4 cup apple cider vinegar
1 quart hard or sweet cider
3 tablespoons cornstarch
Using a sharp knife or a pair of scissors, cut open the ham's wrapper, and drain any juices into the sink. Make a pad of paper towels on a clean cutting board. Remove the rest of the packaging from the ham, and place it on the towels. Blot any excess moisture from the ham with more towels, then discard the towels.
In a small mixing bowl, combine the brown sugar and dry mustard. Rub this mixture over the ham's surface.
Plug in a 6- or 7-quart slow cooker, and turn it to its high setting to warm up. Pour the cider vinegar and about half of the cider into the cooker, and then carefully lower the ham into the liquid. Position the ham however it fits best.
Add the remaining cider, so the ham is at least two-thirds submerged. You might not need the whole bottle. Cover, and change the Crock-Pot to its low setting.
Cook for 6 to 8 hours on low, depending on the size of your ham, until it's tender enough that you can twist pieces away easily with a fork. With a carving fork or other utensils, lift the ham carefully from the Crock-Pot, and transfer it to a cutting board or serving tray. Cover it loosely with foil, and let it rest for 10 to 15 minutes.
Set a large measuring cup near the Crock-Pot, and carefully pour the rich, cider-flavored cooking juices into it. Let them rest for a few minutes, then skim any excess fat from the top.
Place a saucepan over medium heat, and pour in about half of the juices. Whisk the cornstarch into a few tablespoons of cold water until smooth, and then stir it into the cooking juices until it thickens. Still stirring, thin the gravy with more cooking juices until it reaches a smoothly pourable consistency. Slice the ham, and serve it with the cider gravy.
References
Writer Bio
Fred Decker is a trained chef and certified food-safety trainer. Decker wrote for the Saint John, New Brunswick Telegraph-Journal, and has been published in Canada's Hospitality and Foodservice magazine. He's held positions selling computers, insurance and mutual funds, and was educated at Memorial University of Newfoundland and the Northern Alberta Institute of Technology.