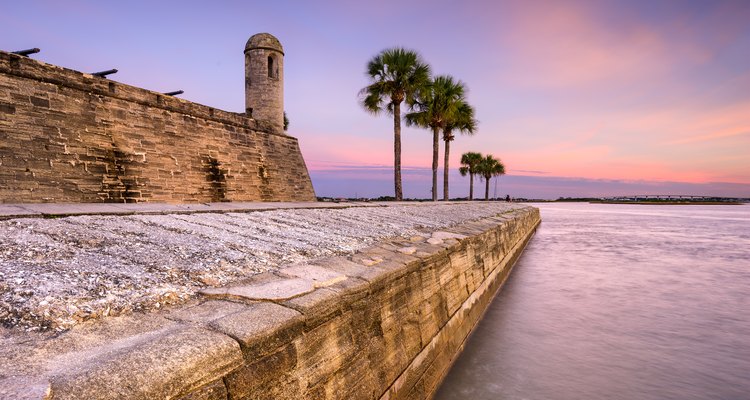 SeanPavonePhoto/iStock/GettyImages
Create Some Family History in the Country's Oldest City
Founded in 1565, St. Augustine wears its "oldest city in the United States" name with pride. And why not, given the many historic sights and attractions located here? Families not only can enjoy time discovering St. Augustine together, but also learn a good deal of American history in the process. And for parents, that's a true win-win.
Hold the Fort
The Castillo de San Marcos (1 S. Castillo Drive, St. Augustine, FL), the oldest masonry fort in the United States, overlooks Matanzas Bay, where soldiers stood sentry protecting the city of St. Augustine. Today, visitors can roam the fort, watch a video that describes the fort's history, join in a ranger program and see demonstrations by re-enactors in costume. Plus, tickets are good for seven consecutive days, and children ages 15 and younger get in free. The little one will love to explore the fort, but keep an eye on them when climbing any stairs or approaching any walls on the top level.
Jump on the Trolley
One of the best introductions to St. Augustine is via a trolley tour with Old Town Trolley Tour (167 San Marco Ave., St. Augustine, FL). This hop-on, hop-off tour takes visitors throughout St. Augustine, with stops at or near many of the most popular attractions. Families can get off at any stop to visit an attraction, take a bathroom break or grab a meal. When they're ready, families can grab a ride on the next trolley. All tour tickets are good for three days, so you don't have to try to do everything on one day. Also, tour participants can park free at the trolley lot, another way to save money.
See the Light… house
Completed in 1874, the St. Augustine Lighthouse (100 Red Cox Road, St. Augustine, FL) is St. Augustine's oldest surviving brick structure. With 219 steps, the tower rises 165 feet above sea level, overlooking Northeast Florida. The watch keeper's house has been converted into a museum where you can learn about the history of the keepers and their families, as well as maritime archeology, maritime history and more. As part of general admission, visitors can participate in daily guided tours and interactive programs. To keep the kids engaged, find a scavenger hunt card pack at the entrance to the Maritime Hammock trails. When visiting the lighthouse, please note that children shorter than 44 inches tall are not permitted in the lighthouse; therefore, these children receive free admission to the museum and the base with one accompanying adult receiving half-price admission. In addition, parents are not permitted to carry children up the lighthouse stairs. Children must climb the steps themselves.
Search for Pirate Treasure
Kids will love the St. Augustine Pirate & Treasure Museum (12 S. Castillo Drive, St. Augustine, FL), which is filled with more than 300 years of pirate history, artifacts and interactive exhibits. Visitors can fire a real cannon, see the world's oldest "Wanted" poster and even see Jack Sparrow's sword. Along with their ticket purchase, kids will receive a treasure map with clues to find the "Discovery Drawers" marked with a skull and crossbones and filled with "treasure." This treasure hunt is a fun way to keep the kids interested in visiting a museum.
Go to School Back in the Day
Show kids how different school used to be more than 200 years ago at the Oldest Wooden School House (14 St. George St., St. Augustine, FL) in the United States. This cedar and cypress building housed a single schoolroom on the main floor and a room upstairs where the schoolmaster and his family lived. In the schoolroom, kids will see related artifacts like slate boards and copies of the books the children studied. Also, animatronic figures dressed in period attire representing the schoolmaster and students discuss their day-to-day activities at the school. It's fun to see how children react to how school was taught and operated so long ago.
References
Writer Bio
Karon Warren has covered travel for nearly 20 years with numerous print and online publications. Her byline has appeared in USA Today, USA Today's 10 Best, WorkingMother.com, FamilyVacationCritic.com. and many others. She is a member of both the Society of American Travel Writers and the American Society of Journalists and Authors. In addition to her freelance work for other clients, she also writes for her own travel site, ThisGirlTravels.com