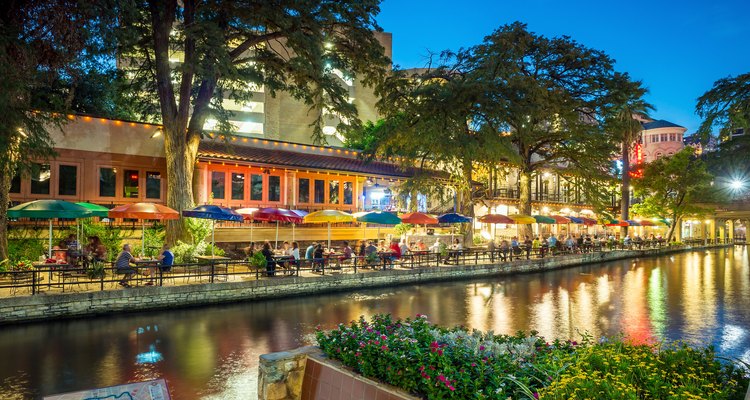 f11photo/iStock/GettyImages
Best Budget-Friendly Family Fun in San Antonio
You'll remember the Alamo and a whole lot more after a fun-filled family vacation to San Antonio, TX. Family-friendly fun doesn't have to cost a lot in Alamo City, either. Check out free things you can do without spending a penny.
Walk the Walk
The 2.5 mile San Antonio Riverwalk has adventurous corners that kids will love exploring. Check out the Grotto (Camden and Newell Streets), an imaginative super-sculpture by artist Carlos Cortes. Relax on benches built into the cave-like walls, cool down beside waterfalls, and access winding passageways through the jaws of a giant jaguar head. Walk through Sonic Passage (Riverwalk at Jones Ave., San Antonio, TX) where you'll be washed with sounds of the San Antonio River and discover 20 other interactive art displays along the water's edge.
Amuse 'em at a Museum
In San Antonio, TX, free museums go way beyond the typical art museum. Head to the U.S. Army Medical Department Museum (2310 Stanley Rd., Fort Sam Houston, San Antonio, TX) to learn about life-saving medical treatment on the battlefield since the Civil War. See full-size helicopters, military Jeeps, wagons and more. For something a little quirky, head to Barney Smith's Toilet Seat Art Museum (239 Abiso Ave., San Antonio, TX) with more than 1,000 hand-decorated toilet seats.
The city's biggest museums also offer free days. Tuesday afternoons are free at Witte Museum (3801 Broadway St., San Antonio, TX ) and San Antonio Museum of Art (200 West Jones Ave., San Antonio, TX). The latter also has free admission on Sunday from 10 a.m. to noon.
Watch the Wildlife
Check out deer, guinea fowl, peacocks, ducks and geese in the Quadrangle (1400 E. Grayson St., Fort Sam Houston, San Antonio, TX). The building isn't just the oldest at Fort Sam Houston, it also is where Apache Chief Geronimo was held captive by the U.S. Army for 40 days in 1886. A clock tower rises above the stone walls, and semi-tame animals roam the grassy square. While you're there, explore the Fort Sam Houston Museum and delve into the history of the fort and Texas military.
Go on a Mission
Everyone remembers the Alamo, but it's not the only mission in town. Visit San Antonio Missions National Park (2202 Roosevelt Ave., San Antonio, TX) to explore these graceful structures and learn about their important role in colonizing New Spain. Start by watching a movie at the park's visitor center and embark on the Mission Portals hike and bike trail. The route takes you through historic neighborhoods and farmlands along the San Antonio River to visit four historic missions. Eight miles of dedicated pathway along the river are easy to walk or ride, but you can also drive between missions if you prefer.
See How it's Made
Did you know your shoes go through up to 100 steps in the manufacturing process before you ever take your first step in them? Visit the San Antonio Shoemakers (SAS) Factory Store (101 New Laredo Highway) to check out the details that go into a single pair of shoes. Up to 80 people might work on a pair of shoes, adding details like hand stitching. The tour begins at the store and travels by bus to two factory sites. Kids age 6 and up are welcome, but include an adult with each group of up to four kids.
References
Writer Bio
Indulging her passion for vacation vagary through the written word on a full-time basis since 2010, travel funster Jodi Thornton-O'Connell guides readers to the unexpected, quirky, and awe-inspiring.