adobestock/James-Peragine/LIVESTRONG.COM
Whether you're grocery shopping for just yourself or your whole family, you probably find that food takes a bigger bite out of your paycheck than you'd like.
Being prepared before you head out, knowing what to keep an eye out for at the store and making the most of what you bring home can help you cut your grocery bill while still maximizing the quality of your diet. Here are some expert tips to help you save while shopping.
Tips for Creating a Better Shopping List
1. Stock up on pantry staples.
It's easier to keep your grocery bill down when you already have staple ingredients to build healthy meals. According to Shari Steinbach, M.S., RD, Meijer health and wellness nutrition manager, healthy pantry staples to have on hand should include:
Grains (e.g., rice, pasta, quinoa, barley): They make meals more filling and can work with many different dishes.
Beans: Either dried or canned, beans are a great, low-price protein that also counts as a vegetable.
Oil: Use it to saute or roast vegetables, in baking and for making salad dressing.
Seasonings (e.g., Italian seasoning, garlic powder): They add flavor to pasta, tomatoes, soup, veggies and eggs.
Nuts and nut butters: They're the perfect choice for a quick snack or healthy meal addition.
Canned/jarred tomatoes: Use them for inexpensive marinara sauces, mix with rice or pasta and serve with eggs and more.
Canned fish (e.g., canned tuna, sardines, salmon): Convenient way to include protein and healthy omega-3s.
2. Buy with meals in mind versus ingredients.
Next time you see a giant container of something on sale, ask yourself how you plan to use it.
"Oftentimes, giant cans of fruits or vegetables (or a sale on anything) may seem like a really good purchase. Then you get it home and realize you either don't really know what to do with it, you don't have any of the other ingredients you need to pair it with to create a nice menu or that you only needed half of what was actually in the container and don't know what to do with the rest," says Kim Kirchherr, M.S., RD.
"Skip anything that you don't have a plan for, or take the time to look up a few recipes in advance to ensure that your dollars spent are put to good use."
3. Go for "real" food… in the frozen section.
Frozen foods include real, high-quality ingredients that are budget-friendly, versatile and simple to prepare. Freezing is the best method for preserving food and locking in nutrients because the ingredients are picked and harvested at the peak of ripeness, flash-frozen for convenience and perfectly packaged for accessibility_._
Plus, frozen products are not only convenient for everyday use and special occasions; they also often provide a reasonably sized single portion with little to no waste and help you stay on grocery budget.
4. Shop the sales smarter.
While the obvious advice for anyone looking to reduce their grocery bill is to look for sale items, buying sale items you don't need or won't use will likely have you paying more.
"Stock up on shelf-stable/freezer items, focusing only on things you will actually eat. I love to make sure I have bouillon, boxed chicken stock, frozen vegetables, canned beans, flour, baking powder/soda, vinegar, oil and a few favorite herbs and spices always in the house," says Kim Kirchherr, M.S., RD.
"These items guarantee that soups and salad dressings or muffins and other baked goods are easy to put together."
5. Talk to the store's dietitian.
"One of the best resources for stretching your grocery dollars may be a registered dietitian nutritionist (RD) right there at the store. Many supermarket chains employ RDs, who are there to help shoppers eat in a healthy way, regardless of their budgets.
Check the store's website, social media or weekly circular: The store RD often posts tips to help you take advantage of sales on nutritious foods, for example, or may give recipes for low-cost dishes. In many places you can even make an appointment to meet with the RD, who can give healthy-eating advice specific to your family's needs," says Nancy Tringali Piho, director, Shopping for Health.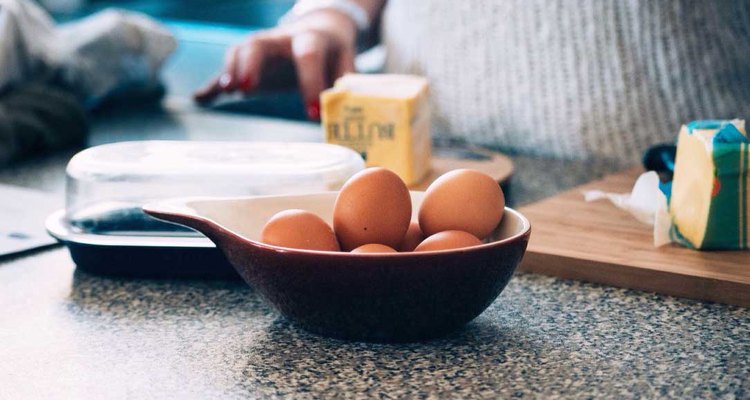 BrigitteStanford/ Twenty20
6. Learn the basics of cooking.
Not only is cooking at home generally healthier than eating out, it's definitely less expensive. "Once you learn the basics of cooking, you'll realize you can create affordable meals in minutes," says Steinbach, M.S., RD.
"Take the basic baked potato: You can top it many ways to create a simple meal. Add salsa and a sprinkle of cheese, leftover chopped veggies and meat or canned chili. And then there's your basic can of beans. With a few other ingredients you can create minestrone soup, a delicious pasta dish or a Mexican salad," she says.
7. Think about storage containers in addition to actual meals.
Not only does it save time to have storage containers on hand, they can actually help you make the most of your food dollars. "If it's easy to store from freezer to heat to serve, and also easy to transport your lunch the next day, food dollars and time creating meals and snacks are well spent, and groceries purchased can be put to good use," says wellness advisor Kirchherr.
"I like 2-cup glass bowls with removable lids. These are great to store individual portions of casseroles, soup and other meals in the freezer to be easily warmed up in the microwave for a quick lunch or dinner on a busy day."
7 Ways to Save While You Shop
1. Understand the price tag on the shelf.
Understanding that you are paying for the different sizes of packages can be helpful in determining the actual cost of meals. At the same time, if you only need a little bit, buy the smaller item so the larger portion doesn't go to waste.
2. Allow yourself time to walk the total store.
Do this at least once to really shop all the options. If you have kids, give them a list of things to find (a green vegetable on sale, a bread or cereal with whole-grain ingredients, etc.).
3. Buy what you will use.
Sometimes it's easy to get caught up in sales, but really think about the practical application. What will the meal or snack be from this item? Will you be able to use it all? Can you make additional dishes?
4. Select several recipes that will use up the foods you buy.
When purchasing ingredients for one recipe, think about ways to use up everything you buy. Soups, salads and casseroles are great meals for using up what you have on hand and extend servings.
5. Talk with the store director or department manager.
Ask about in-store specials or other tips on how to find the best deals within the store.
6. Look for special racks of bread and fruits and vegetables that may have a shorter shelf life.
These can be great for soups, casseroles and smoothies or for cutting/chopping and freezing for future use.
7. Check with the store/on their website for any coupons or specials.
Ask about the store's coupon policy to be sure you have the most current information.
Read More: 10 Tricks to Save Money and Waste Less of Your Fruits and Veggies
Sample Meal Plan For Less Than $10 a Day
1. Breakfast
Peanut Butter Raisin Oatmeal & 1 cup of milk
1 cup of cooked oatmeal

1 tablespoon of peanut butter

1/4 cup of raisins
2. Lunch
8-inch whole-wheat tortilla

4 ounces of tuna (canned in water)

2 tablespoons of light mayonnaise

2 tablespoons of diced cucumber

1 cup of mixed greens

5 cherry tomatoes

2 tablespoons of balsamic vinaigrette dressing
3. Dinner
-4 ounces of chicken breast

-1 tablespoon of butter

-1 tablespoon of chicken broth

-1 tablespoon of all-purpose flour

-½ of a lemon
Serve with ½ cup of cooked brown rice and 1 cup of mixed vegetables (frozen) with 1 teaspoon of butter
4. Snack
2 tablespoons of kernels

1 teaspoon of vegetable oil

5. Snack
What Do YOU Think?
Have you tried eating on $10 a day? What was your experience like? What do you think about our meal plan? Tell us in the comments!
Writer Bio
Patricia Bannan, MS, RDN, is a nutrition writer, frequent expert on TV shows, and author of "Eat Right When Time Is Tight." She is passionate about helping people reach their health and wellness goals. Follow her at www.patriciabannan.com