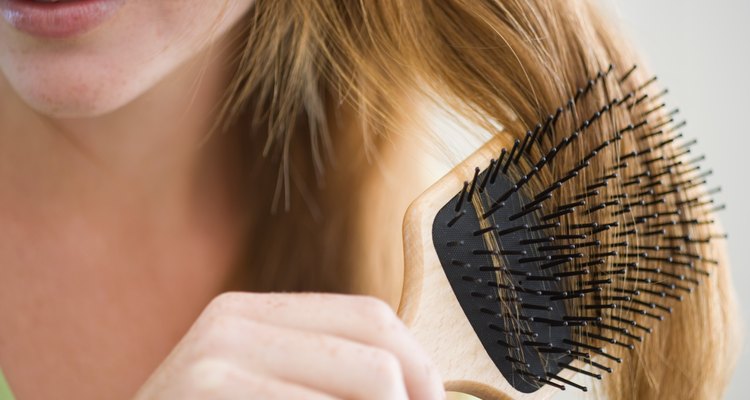 Jupiterimages/Pixland/Getty Images
If you find yourself shying away from conditioners because they leave your hair flat and lifeless, don't give up -- you can still get the softness, bounce and shine you've always wanted. And the solution may be as close as your kitchen cupboard. Homemade conditioning rinses made with apple cider vinegar or lemon juice have been favorites of women for generations. One, or even both, may be right for you, depending on your hair type and the style you wear.
Bring Out the Shine
Both of these time-tested homemade rinses give hair instant body and shine and leave it free of tangles and feeling extra-soft. Apple cider vinegar and lemon juice naturally clarify hair and bring back shine by removing buildup from minerals, chlorine, shampoo and styling products.
Curly or Straight
If you have curly hair or want to accentuate your natural wave, then an apple cider vinegar rinse is for you. Not only will your curls shine, but they may have more bounce and definition. A lemon juice rinse has less curl-enhancing effect and may be better if you want to wear your hair very straight or if you are trying to minimize the effects of humidity.
Dry or Oily
Both rinses can offer benefits for your scalp. Lemon has an astringent effect and may help to reduce excess oil. Apple cider vinegar, on the other hand, may help to balance a dry scalp prone to dandruff.
Caution With Color
A lemon juice rinse brightens blonde or grey highlights; with regular use it may slightly lighten your hair if you have lighter hair to begin with. An apple cider vinegar rinse may be best for darker hair if you don't want to bring out highlights or accentuate grey. Do not use an apple cider vinegar rinse if you have color-treated hair, as it may cause the color to fade.
How to Use
For either rinse, pour a solution of 1 to 2 teaspoons of apple cider vinegar or freshly squeezed lemon juice mixed into 1 cup of water over your hair after shampooing. Work the solution through for a minute, then rinse with cool water. Don't worry about any lingering odor; it will disappear as your hair dries. You may have to experiment with the exact amount of vinegar or lemon you use, depending on the length and texture of your hair.
References
Writer Bio
LuAnne Cervelli has been writing since 2002. Her work has appeared in numerous magazines and major Canadian daily newspapers. Cervelli holds a Master of Arts in folk studies from Western Kentucky University and a Master of Public Administration from Southern Illinois University.
Photo Credits
Jupiterimages/Pixland/Getty Images