The wedding ring is one of the most readily recognizable symbols in all the world. Used heavily in wedding imagery, the picture of two rings, nested together, immediately brings thoughts of white dresses, tiered cakes and bouquets to mind. Of all of the things that you will wear on your wedding day, the wedding ring is the one thing that you will keep on forever. Many couples opt for three-ring sets.
Description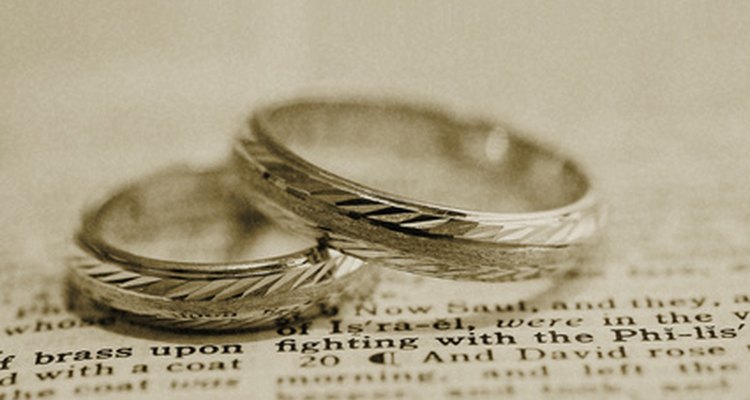 A three-ring wedding ring set is a collection of rings that includes an engagement ring, a wedding ring for the bride and a wedding ring for the groom. Typically, all three rings are made of the same metal or metals and are designed with a similar or complimentary style.
Benefits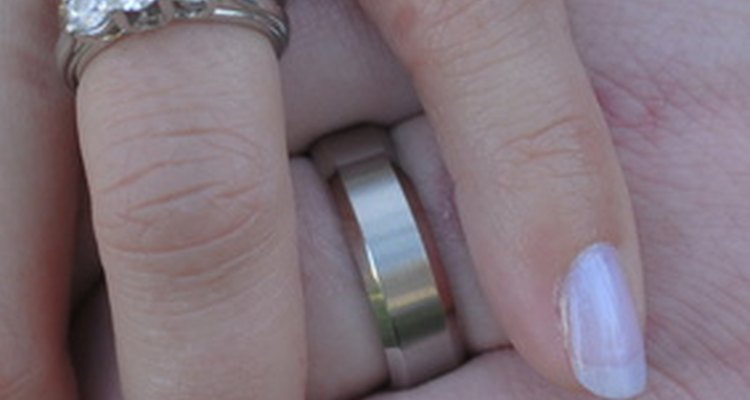 wedding band and engagement ring image by jimcox40 from
Fotolia.com
Purchasing a three-ring wedding ring set has the distinct advantage of allowing you to pick out an elaborate engagement ring, and have a wedding ring that will fit comfortably with it. Many beautiful engagement rings just won't fit well with a standard band and wind up needing to be either worn on a different finger or attached to the wedding ring permanently. Many times, a three-ring set will include a specially shaped wedding band that is designed to compliment and enhance the engagement ring. The third ring, which is for the groom, will somehow echo the look and feel of the bridal set, either by having the same engravings or the same still stones set into it.
Considerations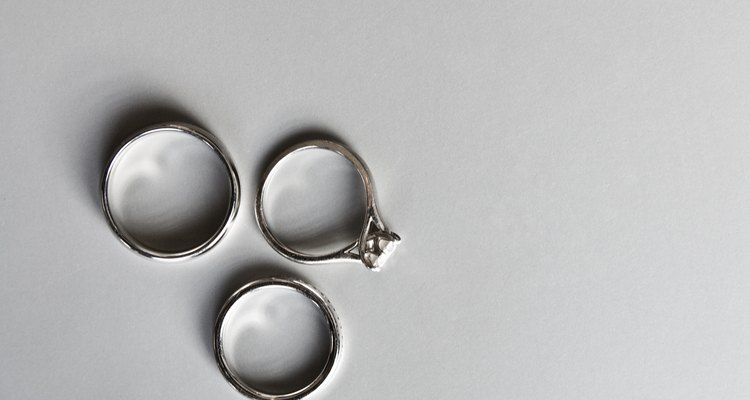 Jupiterimages/Photos.com/Getty Images
One thing to keep in mind when considering purchasing a three-ring wedding ring set is that you are purchasing the your wedding bands at the same time as your engagement ring. While this option makes sense for couples that have already agreed to get married and are picking out the ring together, this may not be the best choice for situations where the proposal is intended to be a surprise. Ideally, a couple should pick out their wedding bands together, since they will both be wearing them for the rest of their days. Picking out a bridal set without the bride can be a risky proposition.
Disadvantages
set of wedding rings image by Francois du Plessis from
Fotolia.com
One disadvantage to a three-ring wedding ring set is that often, the bride's wedding ring is not meant to be worn as a stand alone piece of jewelry. Designed to fit snugly around the engagement ring, the wedding ring is often an odd shape and not suited to being worn by itself. Though a newly engaged woman might not be able to imagine a situation in which she would not want to wear her engagement ring, there are circumstances where an unobtrusive band are preferable.
Another disadvantage to purchasing a set is that it may be difficult to find one that pleases both the bride and the groom. Also, there is often not a lot of room for customization in sets of this sort.
Availability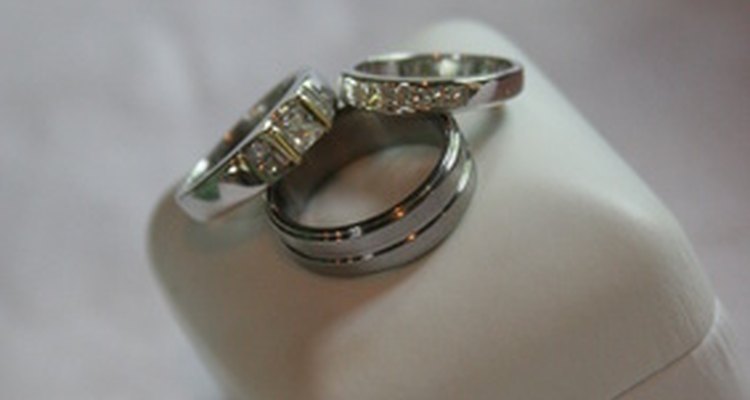 wedding rings image by Paul Retherford from
Fotolia.com
Three-ring wedding ring sets are now widely available at most jewelry chains across the United States. There are many options, ranging from fairly simple yellow and white gold sets to extremely ornate rings with channel-set stones and mixtures of metals. If you have definitely decided upon getting married, it is a good idea to shop around together and get a feel for what you would both enjoy wearing for the rest of your lives.
Writer Bio
A seasoned freelance writer, Ilana Boyum got her first writing job in the sports department at the "Sun Sentinel Newspaper" in 1993. In 1998 she began working as a copywriter at a small ad agency, and was quickly promoted to head copywriter. Boyum attended Florida Atlantic University.
Photo Credits