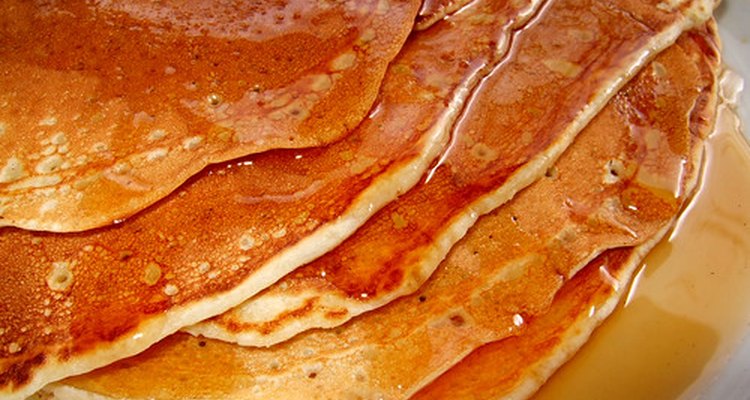 Image by Flickr.com, courtesy of Frost Nova
While molasses and maple syrup are both plant-derived sweeteners, they are very different from each other. Even though each sweetens, you wouldn't normally substitute one for the other because they are so different in taste. Maple syrup grade B has less sugar in the sap than grade A maple syrup, and has to boil longer to become the syrup poured over pancakes. Black molasses is the same as "blackstrap" molasses, and is more often an ingredient in cooking or baking.
Source
In early spring, the sap from sugar maple trees is collected and cooked down to create maple syrup. Sugar cane is pressed to extract the juice, which is cooked down to produce molasses.
Color and Viscosity
Black molasses is a nearly black dark brown color, is very dense and thick in consistency, and requires a utensil to remove it from the jar. Maple syrup is much lighter in color--more of a clear golden brown--is thin in viscosity and pours easily.
Flavor
Molasses is not as sweet as maple syrup, but has almost a bitter, but rich, heavy flavor. Maple syrup's flavor is very light and sweet when compared to molasses.
Smell
Some describe the smell of black molasses as similar to soy sauce, but with a sweetness to it. Maple syrup has a sweet, almost buttery, smell.
Nutritional Value
Molasses and maple syrup grade B are both good sources of minerals and are more nutritional than other sweeteners such as refined sugars, which are stripped of nearly all their nutrients, according to the George Mateljan Foundation for the World's Healthiest Foods.
References
Writer Bio
CL Hendricks has been writing professionally for four years, primarily content for a variety of websites she designed and managed. For Demand Studios she prefers writing about medical conditions and symptoms, alternative medicine, and survival preparedness, often drawing on personal experience or training to guide the direction of the articles.
Photo Credits
Image by Flickr.com, courtesy of Frost Nova