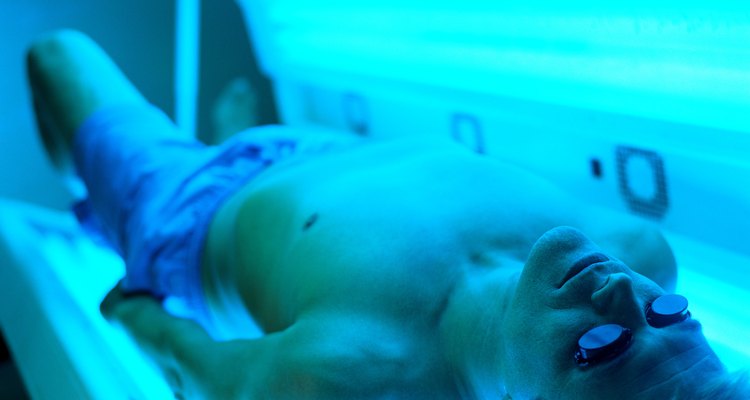 Stockbyte/Stockbyte/Getty Images
A hydration station tanning bed utilizes oxygen science concentrates to enhance vapors designed to produce a deep, dark tan while moisturizing skin. This hydrofusion indoor tanning bed blankets tanners with radiant heat, steam and massages.
Oxygen Science Concentrates
A hydration station tanning bed uses oxygen science concentrates to moisturize skin and produce a rich tan. Active ingredients added to the steam vapors include vitamins A, E, and C, aloe vera, plant collagen and elastin, green tea and algae extracts and CO Q 10.
Steam
Fueled by oxygen science concentrates, moist heat steams every inch of the tanner's body and moisturizes deep pores of the skin.
LED Lights
This unique indoor tanning bed tans the body with Colorbath technology. Random colored bulbs cross and fade over the body while tanning.
Massage
Each hydration station tanning bed is equipped with a vibratory, motorized massage option with adjustable features, including pulsating and continuous vibrations.
Cooling Facial Air
The LCD panel of this indoor tanning bed offers tanners with varying levels of cool facial air to minimize the heat and refresh the skin.
Writer Bio
Shannon Philpott has been a writer since 1999. She has experience as a newspaper reporter, magazine writer and online copywriter. Philpott has published articles in St. Louis metro newspapers, "Woman's World" magazine, "CollegeBound Teen" magazine and on e-commerce websites, and also teaches college journalism and English. She holds a Master of Arts in English from Southern Illinois University.
Photo Credits
Stockbyte/Stockbyte/Getty Images