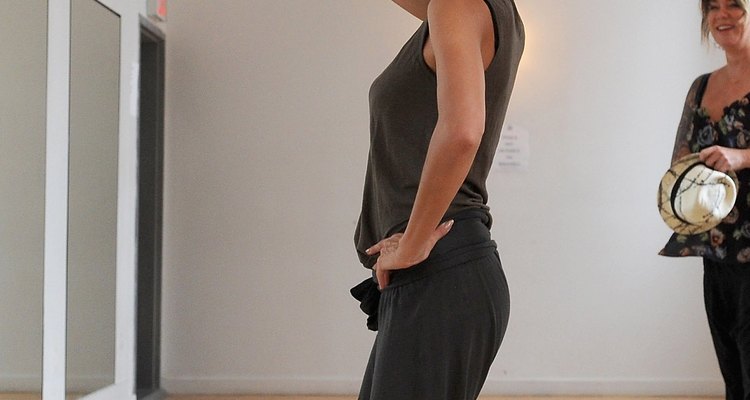 Dimitrios Kambouris/Getty Images Entertainment/Getty Images
Gray sweatpants -- generally made of fleece, French terry and cotton blends -- often lose their softness after several washes and are prone to shrinkage, depending on the fiber content. Because gray colors vary from light hues to dark charcoal tones, it's also important to keep the original color so that the sweatpants don't look dingy. Extend the life of your perfect-fitting workout sweats by implementing extra laundering tips to keep that extra-smooth feeling for your favorite grays.
Step 1
Read the care label in your sweatpants, even if you're caring for budget-friendly sweats made of 100-percent cotton or a polyester-cotton blend.
Step 2
Turn your sweatpants inside out. If your sweats have pockets, empty them out and unroll any rib or elastic leg cuffs. This is especially important if you're washing fleece bottoms with a percentage of acrylic fiber, which is prone to pilling.
Step 3
Set your water temperature according to your sweatpants' care-label recommendations. If you're washing cotton or cotton blends, it's likely that the label will recommend that you set your machine to cold or lukewarm water to avoid shrinkage. Certain active-pant brands recommend hot water if the fabric is prone to retaining odor.
Step 4
Set your wash cycle to the recommended machine setting -- generally a gentle or delicate cycle uses less agitation in the wash and reduces the possibility of pilling.
Step 5
Pour the recommended amount of enzyme-formulated laundry detergent into your washing machine and wash your gray sweatpants with like colors. These types of detergents generally have active ingredients that break down protein-based stains. This is especially important if you have unwanted perspiration stains or spots.
Step 6
Pour 1/4 cup of distilled white vinegar into the rinse cycle as a DIY fabric softener. If you're washing a large load, add 1 cup white vinegar. The vinegar removes any leftover laundry-detergent residue clinging to your sweatpants. This is especially important if you have already washed your bottoms several times.
Step 7
Remove the sweatpants immediately when the wash cycle ends. Dry as recommended.
References
Tips
If your sweatpants recommend that they be hand washed, turn them inside out before submerging them into your washbasin.
Although you can wash your gray sweatpants in a full load of laundry, washing your bottoms in a medium to small load reduces the possibility of pilling because fewer pieces rub against each other.
Writer Bio
Mercedes Valladares is the founder of M721Organics and has been an independent designer for over 15 years. Her work experience commenced during college with manufacturers based in New York and Hong Kong. Her education includes LIM College, International Fine Arts College and design certification from the Paris Fashion Institute. She produces eco-crafting videos and writes recycling articles online.
Photo Credits
Dimitrios Kambouris/Getty Images Entertainment/Getty Images