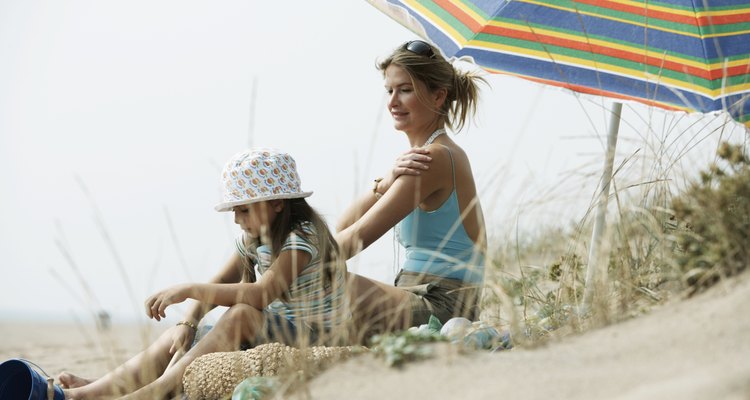 Getty Images/Digital Vision/Getty Images
The sun's rays provide us with a good source of Vitamin D and are essential for life as we know it; however, those beloved rays can also be dangerous if we don't protect ourselves. For years, Coppertone's mission has been to protect people from sun damage as they go on vacations, play sports and go about their daily life.
History
For 65 years, Coppertone products have helped the American family stay well protected in the sun. Developed in 1944, by Benjamin Green, a WWII airman, Coppertone was at first a sunscreen with the primary purpose to protect soldiers from the sun. As time went on and Green became a pharmacist, Coppertone's Suntan Cream was born. According to the official Coppertone website, Green was so hands on that the original mixture was created on his wife's stove and tested on his own head.
Significance
Though Green was inspired by his fellow soldiers, it was only a matter of time before the need for sun protection for the average American family would come into play. It was with this thought in mind that the first consumer sunscreen product hit the market in 1944.
Being outdoors is something most people cannot avoid. Every day people are enjoying a day at the beach or attempting to get sun with the help of sunscreens and sun tan lotions. The idea of helping people achieve a great tan without compromising their health is something Coppertone has been doing for Americans for generations.
Identification
Always reinventing their products, Coppertone has seen many firsts. Among these many achievements is that they introduced the first sunless tanner in 1960, which has seemingly led the way for the plethora of self-tanners now on the market.
Additionally, Coppertone created the first sweat-proof sunscreen for athletes, the first disappearing colored sunscreen for kids, and the first sunscreens to protect against UVB and UVA rays in 1985.
Features
Taking its place as the first sunscreen may have gained the folks at Coppertone a bit of fame but nothing can compare to the attention garnered by the infamous "Coppertone girl." While the idea of the "Coppertone girl" was created in 1953, it was not until 1959 that the company got their famous icon.
According to http://www.tvacres.com, the ad campaign was based on drawings by Joyce Ballantyne Brand, a commercial artist, who used her daughter Cheri as her inspiration. The original ad featured a little blond girl having her bottoms pulled by a cocker spaniel; along side the ad was a the tagline, "Don't be a paleface."
As time and society has changed, the "Coppertone girl" often times wears a shirt or still has her bottoms tugged on but does not show her buttocks.
Fun Fact
The popularity of the Coppertone ad quickly took over the nation and billboards were seen in many big cities and on major highways for decades. Many of the billboards contain moving images in which the cocker spaniel was tugging at the Coppertone girl's bottoms.
While most have stopped working or have since been removed, there is still one billboard representing the history and original appeal of the Coppertone brand.
On Biscayne Boulevard in Miami, the original, moving Coppertone billboard has been restored and is standing her ground after being removed from her original home in 1992. Back by popular demand, she has been greeting locals and visitors of the Miami area since 2008 and doesn't seem to be leaving anytime soon.
Effects
Now a household name, Coppertone is almost synonymous with sun lotion. Benjamin Green's is a perfect example of a person having a vision to invent a product that betters the lives of others. For years, Mr. Green's once-homemade sunscreen has protected families while they create memories and live their daily lives.
Writer Bio
Nicole Gordon is a graduate from the University of Central Florida and has been a freelance writer for over seven years. During her freelance career Gordon has written for such publications as the Orlando Sentinel online, Axis magazine and various other websites.
Photo Credits
Getty Images/Digital Vision/Getty Images