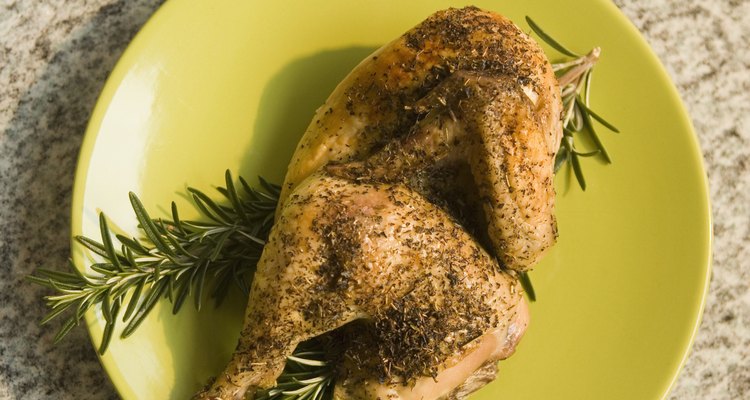 Comstock Images/Comstock/Getty Images
The last thing you want to do when you're trying to prepare a quick meal is to run to the grocery store for one forgotten ingredient. But when that ingredient is responsible for the majority of the seasoning in a dish, what else can you do? Dry Italian-style salad dressing mix adds balanced seasoning to a variety of dishes, but if you don't happen to have any on hand, look through your pantry for substitutes.
Liquid Salad Dressing
Liquid Italian salad dressing may substitute for dry mix. Measure the salad dressing before you add it to the dish and reduce the amount of other liquids by the same amount. Adding liquid salad dressing adds a vinegary tang and a significant amount of fat to the final dish. This technique works well for baked chicken, because the additional fat contributes to browning without making the meat greasy. But it doesn't work for creamy sauces, since the vinegar may overpower the other flavors and the added fat would break the emulsion.
Make Your Own
If you need a dry preparation, make your own Italian-style salad dressing mix. Combine garlic and onion powder, basil, oregano, parsley, salt and pepper in an airtight bag or container. Add other herbs and seasonings, such as thyme, powdered rosemary, and celery, if desired. Shake well to combine. Use this method for recipes that involve a sauce or a liquid cooking method, such as when you're making soup or stew or braising.
Italian-Style Herbs
If you are feeling adventurous, completely avoid Italian salad dressing or dressing mix. Simply choose fresh or dried Italian-style herbs and seasonings that complement the flavors of your dish. Basil, oregano and garlic are classic Italian flavors that pair well with a wide variety of foods. If you use fresh herbs, add them toward the end of cooking, and use about three times as much as you would their dried equivalent. For a multi-layered flavor, add dried herbs at the beginning of cooking and finish with the fresh version.
Alternative Flavors
If you don't have Italian-style salad dressing or dried herbs on hand, be creative and use what you have. Any powdered soup or dip mix is an alternative to salad dressing mix. Since Italian-style salad dressing mix is often the primary flavor component in a dish, you can easily substitute completely different herbs and seasonings. If you planned to make Italian baked chicken, for example, and you have curry powder in the pantry, make curry chicken instead.
References
Writer Bio
Tricia Ballad is a writer, author and project geek. She has written several books including two novels, teaches classes on goal setting and project planning for writers, and loves to cook in her spare time. She is living proof that you can earn a living with a degree in creative writing.
Photo Credits
Comstock Images/Comstock/Getty Images