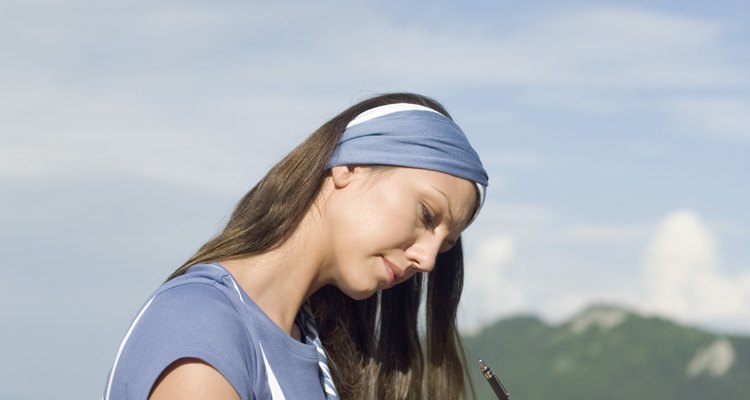 Jupiterimages/Creatas/Getty Images
If one of your friends is in a rehabilitation program getting treatment for drug addiction, you probably want to help but don't know how. If the facility is far away or doesn't allow visitors, write a letter expressing your concern and support. The seriousness of your friend's drug problem will influence what you say. It is important to reassure your friend that you care about her and are ready to help.
Love and Forgiveness
Your letter should convey love and focus on the positive aspects of your relationship. If your friend wronged you in any way, don't be judgmental. Don't bring up the past or ask for explanations for her bad behavior. Express understanding and forgiveness. You want to be encouraging and increase her chance for success. Let her know how pleased you are that she is receiving the help she needs. It is not helpful to express anger and resentment, so if you are still hurting from past transgressions, consider not writing until you have forgiven her.
Build Confidence
Your friend probably needs a confidence boost. Let her know how much you value your relationship with her. Tell her all the things you have always admired and respected about her. The Treatment Solutions website reports that it is usually difficult for friends and family to understand addiction. Let her know that you recognize how professional support can make the difference between success and failure. If she has made unsuccessful attempts to quit on her own in the past, express confidence that she will succeed this time. Don't hesitate to tell her, "I am proud of you for taking this step."
Loving Support
The Drug Rehabilitation Review site points out that recidivism rates are high for recovering addicts. Be aware that your friend will need ongoing support from family and friends after she completes the program. Write that you are prepared to stand by and help. Dr. David Reiss, a psychiatrist, warns that although it is important to be supportive, it is equally important to not overdo the help. Recovering addicts must take control of their lives. Recognize that your friend will need continuous support from people who share her experience. Show you understand her needs. Say, "I'm here to help you," and suggest concrete ways you can help. Offer to drive her to meetings or babysit her kids when necessary.
Focus on the Future
Express hope for the future in your letter. Suggest interesting and fun activities the two of you might enjoy after she is released. Give her something positive to look forward to. Your friend is probably learning new ways of looking at the world and interacting with people. Suggest something new and exciting that neither of you has done before, such as vacationing together or learning a new skill. Approach these plans with sensitivity. Express patience and don't be overbearing. Try saying, "I don't want you to feel any pressure. I am open to any suggestions or ideas you have." Let her set the pace.
References
Resources
Writer Bio
Freddie Silver started writing newsletters for the Toronto District School Board in 1997. Her areas of expertise include staff management and professional development. She holds a master's degree in psychology from the University of Toronto and is currently pursuing her PhD at the Ontario Institute for Studies in Education, focusing on emotions and professional relationships.
Photo Credits
Jupiterimages/Creatas/Getty Images