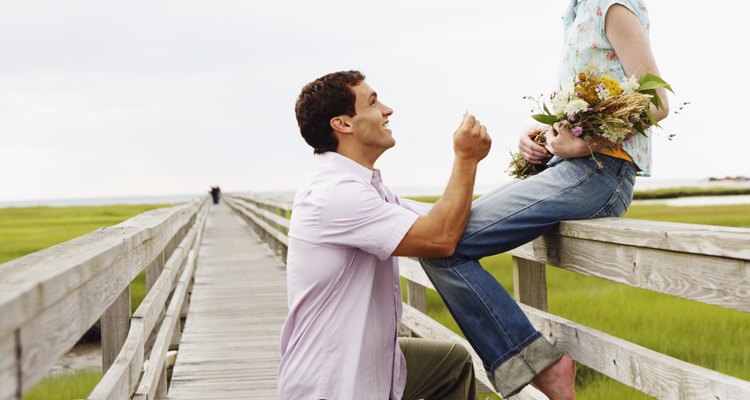 Jupiterimages/Creatas/Getty Images
While a person wonders whether to get married or continue to date, questions about the pros and cons of either option will likely arise. He may focus on the freedom that comes with being able to date, or he may be more into the idea that marriage provides a sort of sanctuary from the outside world, as well as safe place to be himself. Dating provides the opportunity to build a secure foundation before entering into the marriage commitment, but also offers less stability in relationships. Marriage lowers depression risk, but also may result in financial constraints, especially if a couple marries at a very young age.
Dating Pro: The Opportunity to Build a Foundation
When a person decides to date instead of marry at a young age, it gives him the opportunity to build a firm financial foundation for himself, as well as establish his identity before entering into the commitment of marriage. Women who postpone marriage are less likely to divorce, more likely to achieve economic stability for themselves and also more likely to be satisfied with their work and family commitments, according to Kathleen Gerson, author of "The Unfinished Revolution: Coming of Age in a New Era of Gender, Work, and Family." While you may be tempted to rush into marriage with the person you love, continuing to date will give you the chance to be truly ready when you decide to say "I do."
Dating Con: Less Stability in Relationships
Making the decision to date instead of getting married will result in less relationship stability. Marriage provides the opportunity to be yourself with someone who will accept you, as well as help you get through life's challenges. If you decide to date and put off marriage, the chances of your relationship ending are higher since you are not legally bound to your partner. While this also results in greater freedom, you may value relationship stability over the opportunity to get involved with someone new.
Marriage Pro: Lower Risk of Depression
If you decide to get married, you will probably be happier in general. Married people experience less depression and fewer struggles with alcohol, according to a study published in the "Journal of Marriage and Family" in 1996. Instead of spending your weekends at parties drinking alcohol and potentially waking up the next day with regrets, marriage will give you the opportunity to spend more of your time with a person who loves you, and will hold you accountable to make the best decisions for yourself and your relationship.
Marriage Con: Financial Constraints
While marriage generally increases the likelihood of being affluent, if you make the decision to marry too quickly, you take the risk of having financial constraints that limit the decisions you make. Many young adults today believe that it is very important to work full time for a year or two before getting married, and that they must be completely financially dependent before entering into such a serious commitment, according to the report "Knot Yet." Furthermore, if your spouse has different ideas of what to spend your money on than you do, you may have difficulty reaching agreements on how to budget the money you make and plan for your future.
References
Resources
Writer Bio
Kristen Moutria has a Bachelor of Arts in psychology from Evangel University. She is currently pursuing her Master of Arts in education from the University of Nebraska.
Photo Credits
Jupiterimages/Creatas/Getty Images