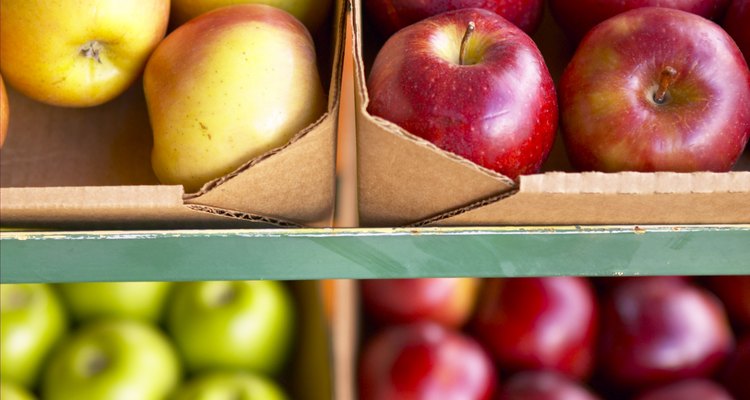 Jupiterimages/Photos.com/Getty Images
Pippin apples, with cultivars including "Albemarle Pippin" and "Newtown Pippin," are as American as apple pie. Probably first developed in Newtown, New York in the 1730s, Pippin apples were beloved by Founding Fathers Thomas Jefferson and Benjamin Franklin. The apples, which have an olive green skin and white flesh when ripe, appear in fall, but don't last long. Fortunately, you'll find many suitable apple alternatives.
The Season for Pippins
Pippin apples typically ripen in late fall and are available through early winter. Depending on where they're grown, this can range from September through January. Pippin apples are a specialty apple -- hard to find even during their prime season. The apples have a sweet, slightly spicy flavor and a crisp, but juicy, texture. They're widely adapted for use in cider, sauces, baking and fresh eating. They brown quickly when cut, so use them immediately if you're using them fresh.
A Few Good Pies
Whether you're making applesauce, pies, muffins or butters, the best baked apple goods start with a selection of two or three different types of apples. Choose apples with a firm texture and a complex flavor that is both sweet and spicy. If Pippins aren't in season, try a combination of two or more of the following apples: Cortland, Empire, Granny Smith, Golden Delicious, Jonathan, Liberty, McIntosh or Winesap. These aren't the only suitable apples, of course. Bite into an apple. If it's crunchy, with just a bit of pucker, it will probably work for baking. Try adding lemon or orange juice and zest to apple pies and applesauce to enhance the naturally sweet-tart flavor of the apples.
Juicing It Up
The same principles that apply to baking apples apply to cider. Use at least two or three varieties for the most flavorful juice or cider. Aim for a balance between spicy, tart and sweet flavors. For a mild flavored juice, substitute Rome Beauty, Golden Delicious or Cortland apples for Pippins. For juice with a bit more punch, use Winesap, Jonathan, McIntosh or even crab apples instead of Pippins. For the most complex flavors, use a combination of both types.
An Apple a Day
Heirloom apple varieties tend to have unusual flavors. These flavors set apples, such as Pippins, apart from mass-produced varieties. The flavor of a specific variety can even vary depending on where it's grown and from year to year. Because of these variables, you're not likely to find an apple that tastes exactly like a Pippin. If you like to eat Pippins fresh, then you'll probably appreciate varieties, such as McIntosh, Cortland, Jonathan and Golden Delicious. These apples have firm, juicy flesh and a complex, slightly sweet, slightly spicy flavor.
References
Writer Bio
Julie Christensen is a food writer, caterer, and mom-chef. She's the creator of MarmaladeMom.org, dedicated to family fun and delicious food, and released a book titled "More Than Pot Roast: Fast, Fresh Slow Cooker Recipes."
Photo Credits
Jupiterimages/Photos.com/Getty Images