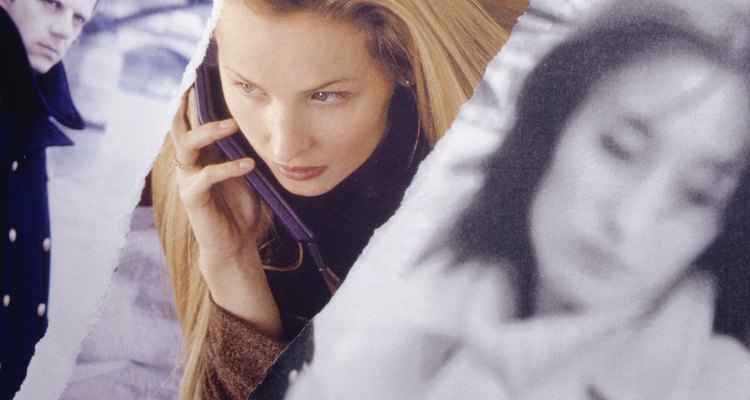 David De Lossy/Photodisc/Getty Images
If your husband has had an affair with a younger woman, you are likely devastated and brokenhearted, as well as wondering if it is possible for you to forgive him. You may feel unsure if you will ever be happy in your marriage again and struggle with images of your husband with the other woman. Susan Heitler, Ph.D., writes in Psychology Today that affairs are comparable to abusive relationships as far as being a leading cause of divorce. However, there are a few steps you can take to begin recovering from your husband's mistake and attempt to forgive him.
Step 1
Take care of yourself. The most important thing you can do upon discovering that your husband has been having an affair with a younger woman is put your needs first. Tammy Nelson, psychotherapist and sex and relationship expert, reports on the Huffington Post that even if you have a family to take care of, it is important that you make caring for yourself a priority. Doing something special for yourself, such as getting a massage, may help you stay focused and relaxed after the shock of your husband's deception. You might also call a trusted friend who will listen as you pour out your emotions.
Step 2
Request an explanation. After you have taken a break to process the devastating news, ask your husband why he cheated on you. Heitler reports that in order for you to recover, you must receive a full assessment of the reasons behind the infidelity. Ask your husband the questions that pop into your head, and make sure you do not blame yourself after he tells you the reasons behind his actions. Being excessively angry at yourself, Heitler states, can block real learning.
Step 3
Explain your own hurt feelings. Express to him exactly how you feel, without holding back. Authors Sarì Harrar and Rita DeMaria report in "The 7 Steps of Marriage" that discussing your doubts, disappointments, feelings of abandonment and anger with your spouse will open up a window of intimacy between the two of you while building a wall between your husband and his former lover.
Step 4
Seek couple's therapy. You will probably struggle to trust your husband after he deceived you and became involved with a younger woman. The American Association for Marriage and Family Therapy can refer you to a therapist who might help you during this life crisis. In therapy, you can bring your concerns into the open and get the advice of a trusted professional.
References
The 7 Stages of Marriage; Sarì Harrar and Rita DeMaria
Resources
Writer Bio
Kristen Moutria has a Bachelor of Arts in psychology from Evangel University. She is currently pursuing her Master of Arts in education from the University of Nebraska.
Photo Credits
David De Lossy/Photodisc/Getty Images