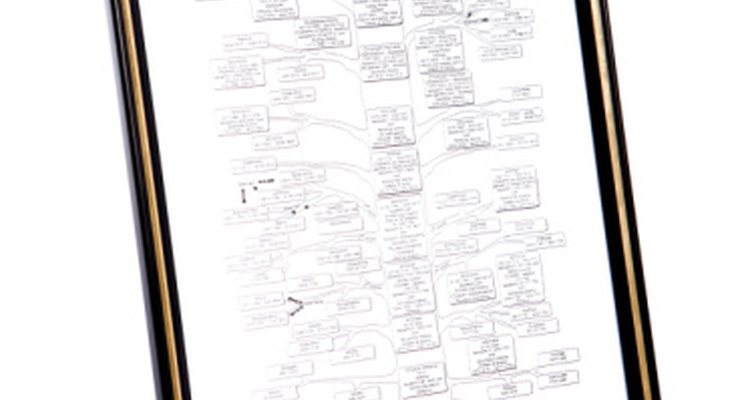 Thomas Northcut/Photodisc/Getty Images
If you've recently taken up genealogy, you might be looking for a way to organize all the information you've gathered about your ancestors. A great way to visualize your family history is with a genogram, which creates a graphic representation of family relationships and medical histories. Genograms use symbols to sketch out a thorough family tree, as well as each family member's physical and physiological traits.
You can find genogram templates available for free download online. There's nothing complicated in learning how to create a genogram.
Create a Symbol Key
Genograms are usually more technical than family trees, so when you're making one, it's best to follow traditional practices in constructing a key and designing the graph. Your key should be made of symbols that represent different types of family members and their relationships to one another: Rectangles, for example, stand for males, while circles indicate females. Horizontal lines denote spousal and sibling relationships, while vertical lines stand for parent-child connections.
For a family member who is deceased, draw an "x" through the symbol. Triangles represent pregnancies, and triangles with an "x" stand for miscarriages or abortions. You can even include different patterned lines to denote different relationships or emotional connections: marriage, engagement, divorce, affairs, friendships, distant connections and so on.
If you're focusing on medical histories in your genogram, include in the key you create symbols that denote different health conditions, such as heart disease, cancer, diabetes, obesity and autism.
Find a Template Online
Several websites offer free downloadable genogram templates to help you get started on your ancestry graph free of charge. Some sites fill out the template for you once you input all the family information you want to include. Others simply provide a template for you to print out and fill in by pen, or to download and fill in as a PDF on your computer.
There are several websites providing genogram templates. Here are three to start with:
SmartDraw: The genogram template includes the basic family unit by default, with two parents and a child. You can modify and add to this information as you like.

Progeny: This site caters to educators, students and families who have chosen to study their ancestry. Its genogram template lets you customize the size, spacing and look of each chart, and you can track up to 10 health conditions using the genogram designer.

GenoPro: This one provides only a basic genogram template, which you can print and fill out by hand. GenoPro is ideal for simple ancestry graphs, or as a starting point for a larger project.

References
Resources
Tips
The WinGeno program does not have social and emotional line types. You could print the genogram and draw the appropriate lines manually, refering to the genogram symbols guide.
Warnings
Progeny's online tool does not save your work, but allows printing.
Writer Bio
Brenna Swanston is a freelance writer, editor and journalist. She covers topics including environment, education, agriculture, travel, immigration and religion. She previously reported for the Sun newspaper in Santa Maria, Calif., and holds a bachelor's in journalism from California Polytechnic State University. Swanston is an avid traveler and loves jazz, yoga and craft beer.
Photo Credits
Thomas Northcut/Photodisc/Getty Images