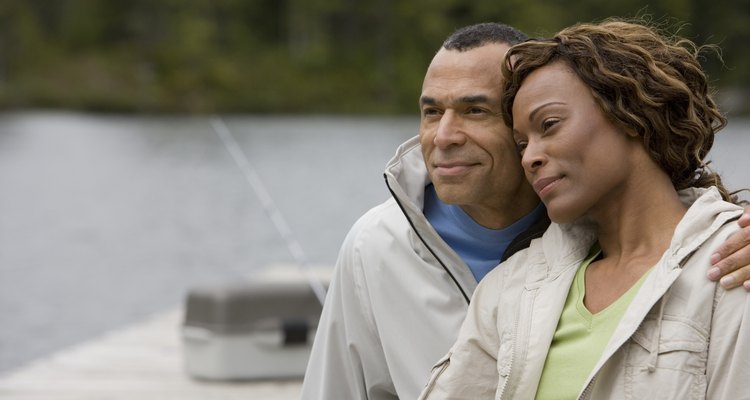 Noel Hendrickson/Photodisc/Getty Images
Every man wants to feel appreciated and wanted by the woman he loves, and your boyfriend is no exception. Making him feel competent and wanted strengthens your relationship and brings you closer. Men tend to be competitive and base their self-worth on accomplishments, according to relationship expert Dr. Gary Smalley in "Hidden Keys to Loving Relationships." Your appreciation can go a long way in boosting his confidence.
Express Admiration
Telling your boyfriend how much you admire him can inspire him to achieve more, according to relationship expert Dr. Willard Harley, Jr., in "His Needs, Her Needs." When you express your admiration, he sees himself as capable and fully able to reach for new goals. Tell him how proud you are of all that he has achieved. Specifically list the talents he has and the ways he excels in those areas. If he waves off your admiration, don't worry. Repeat those words often until he sees himself as you do.
Appreciate Him
Look for all the little things your boyfriend does and express gratitude, suggests professor of psychology, Susan Krauss Whitbourne in a "Psychology Today" article entitled, "Giving Thanks: The Benefits of Gratitude." Demonstrate appreciation for those things by thanking him for his help with a grateful smile. Vocalizing your thanks not only makes him feel competent and wanted, it strengthens your relationship according to an article entitled, "Expressing Gratitude" on the Brigham Young University site.
Flirt Shamelessly!
Flirting with your boyfriend can demonstrate your desire for him and increase your closeness, according to date communication expert, Sean M. Horan, Ph.D. in a "Psychology Today" article entitled, "Why Do We Flirt?" Make Eye contact and lean toward him. Touch his hand or arm so he knows you are locked into him. Exchange humorous references that mean something specific to the two of you, possibly referring to an experience you shared or a something you want to do together.
Show Respect
It's easy to forget respect when you become angry with your boyfriend, and speak disrespectfully, cautions the National Healthy Marriage Resource Center in "What Respect Really Means in a Relationship." Carefully consider your words before they pop out of your mouth, expressing why you are angry and what he do to make things right. Affirm his contributions to your relationship while you suggest ways to improve it. Admit your responsibility for your shortcoming. Tell your boyfriend that you want the relationship to improve because you don't want either of you to be unhappy or to seek love from another.
References
Hidden Keys to Loving Relationships; Dr. Gary Smalley
His Needs, Her Needs; Dr. Willard F. Harley, Jr.
Writer Bio
Rev. Kathryn Rateliff Barr has taught birth, parenting, vaccinations and alternative medicine classes since 1994. She is a pastoral family counselor and has parented birth, step, adopted and foster children. She holds bachelor's degrees in English and history from Centenary College of Louisiana. Studies include midwifery, naturopathy and other alternative therapies.
Photo Credits
Noel Hendrickson/Photodisc/Getty Images