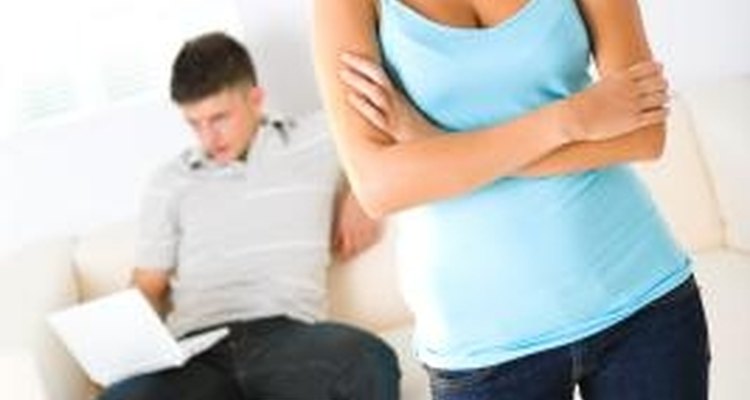 Jupiterimages/Photos.com/Getty Images
If there are reasons why you are with this man, it is as important to honestly explore them as it is to try to make him more responsive. He may be able to show love sometimes, or he may have other qualities that compensate for this lack of emotion. On the other hand, you may have been attracted to him for reasons that are more about you than him. You have chosen to be with a man who has a undemonstrative nature. You should ask yourself why you made this choice. Perhaps you see it as a challenge, or you may also be uncomfortable with displays of affection. Try to face this issue honestly.
Talk to him when you are both calm, telling him that his approach to you makes you feel rejected or unloved. Do not repeat yourself or speak in anger. Ask him to tell you why he thinks he has an issue with showing his feelings. It may be that a child who is not shown affection by his parents, eventually comes to terms with this, and no longer sets himself up for rejection, by expecting affection. This could affect the way he related to others later.
Allow your partner to explain how he feels without interrupting or making demands. It is essential that you listen to him, rather than repeatedly putting forward your own feelings. Sometimes, the more you try to make the other person see your point of view, the more defensive he is likely to become. Do put forward your view, but avoid generalization, such as "You never make me feel loved."
Ask your partner to consider couple, or even individual, therapy. Issues, such as this, are often deep seeded, and he may subconsciously feel that he has a lot to lose by opening up and being more affectionate. It is important to notice whether his lack of affection is new, or has become more marked as this may be relevant. He may, for example have work problems, or even be depressed. However, a sudden change in a man's attitude to you may possibly be a sign that his feelings have changed.
Show affection to your partner in a spontaneous way. Touch him lightly on the arm, or give him a hug if he looks like he needs it. However do not pressurize him, by frequent overt demonstrations of affection.
Tips
Reassure your partner of your love. Show affection in other ways, by cooking him a favorite meal, or buying him a ticket for a game or a show. Some people are more comfortable with practical expressions of love.
Warnings
If you are really unhappy about your partner's lack of affection, think honestly about your future together. If you feel resentful or that you are being short-changed, this may not be the right relationship for you.
Writer Bio
Noreen Wainwright has been writing since 1997. Her work has appeared in "The Daily Telegraph," "The Guardian," "The Countryman" and "The Lady." She has a Bachelor of Arts in social sciences from Liverpool Polytechnic and a postgraduate law degree from Staffordshire University.
Photo Credits
Jupiterimages/Photos.com/Getty Images