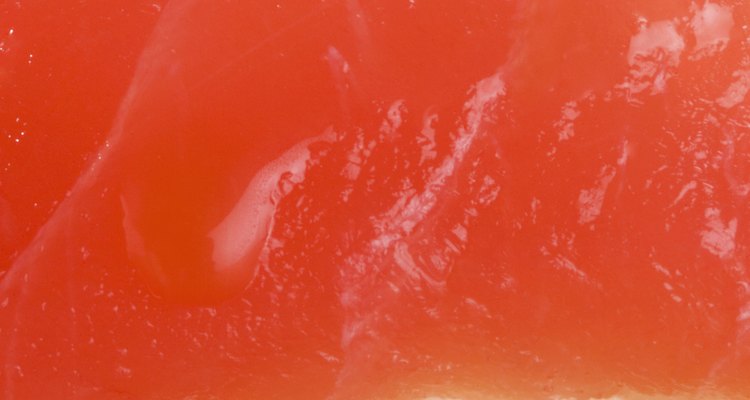 Medioimages/Photodisc/Photodisc/Getty Images
A sought-after saltwater fish, tuna is a federally managed, migratory species. This seafood favorite is so versatile that you can grill it, sear it, bake it into a casserole or even toss it in a salad. Like all seafood, tuna is perishable, requiring proper storage to keep it as fresh as possible and free of dangerous bacteria that can cause foodborne illnesses, whether you purchase it on ice from the seafood market or in a can at the grocery store.
Serving
In temperatures between 40 and 140 degrees Fahrenheit, bacteria thrives. Leaving tuna -- fresh or cooked -- out on a serving tray in temperatures between 40 and 89 F, causes any bacteria that is naturally on the fish to multiply quickly. After two hours, bacteria amounts become dangerous. In temperatures between 90 and 140 F, it only takes an hour for bacteria to reach dangerous levels that can make you sick. Throw away tuna that sits out for unsafe periods.
Refrigerated
Stored in the refrigerator at constant temperatures of 39 F and below, raw tuna remains fresh up to two days. Once cooked, the refrigeration time is extended to five days. Canned tuna, which is actually cooked before canning, also lasts four to five days after it's opened, whether mixed in a salad or by itself. Unopened cans do not require refrigeration, remaining fresh for up to three years in the cupboard.
Freezing
Wrap raw or cooked tuna tightly in freezer wrap or aluminum foil and pop it in the freezer if you do not plan to cook or eat the fish within the safe storage period. At a temperature of 0 degrees F, tuna remains safe to eat indefinitely, but freshness and quality begin to diminish after four months. Because tuna salads often contain mayonnaise which tends to separate in the freezer, freezing tuna salad is not recommended.
Precautions
To reduce your risk of foodborne illness, purchase the freshest tuna possible. Only purchase tuna that is held in refrigeration on a thick bed of ice inside a closed display. Look for tuna that does not have any "off" odors or discoloration. The eyes should be clear, the skin shiny and the gills bright red. When purchasing tuna in a can, check the sell-by date, choosing a can with a date as far out as possible.
References
Writer Bio
Jonae Fredericks started writing in 2007. She also has a background as a licensed cosmetologist and certified skin-care specialist. Jonae Fredericks is a certified paraeducator, presently working in the public education system.
Photo Credits
Medioimages/Photodisc/Photodisc/Getty Images