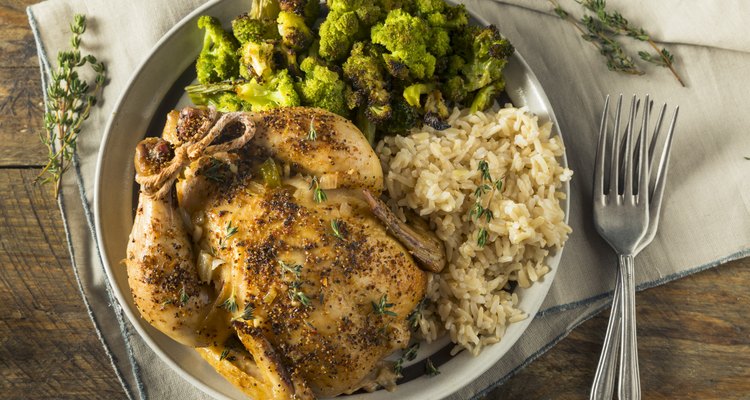 bhofack2/iStock/GettyImages
Cornish game hens can't cook fast enough, especially if plates on the table are waiting along with traditional side dishes of wild, long grain or brown rice. At 350 degrees Fahrenheit, baking a Cornish hen may only take from 30 to around 45 minutes when you split the small bird in two. You can jump the temperature up to 375 F or even 400 F for faster cooking.
The Fine Print
The exact cooking time will depend on the size of your Cornish hens, the number of hens in the oven and whether they have fully settled to room temperature before baking. After splitting them by removing their backbone with kitchen shears, you can season them and place them in a baking tray, skin-side up.
Check the hens at 30 minutes for crispy skin and clear juices running from the thigh when pierced, and an internal temperature of 165 F.
References
Writer Bio
An award-winning writer and editor, Rogue Parrish has worked at the Washington Post, the Baltimore Sun and at newspapers from England to Alaska. This world adventurer and travel book author, who graduates summa cum laude in journalism from the University of Maryland, specializes in travel and food -- as well as sports and fitness. She's also a property manager and writes on DIY projects.