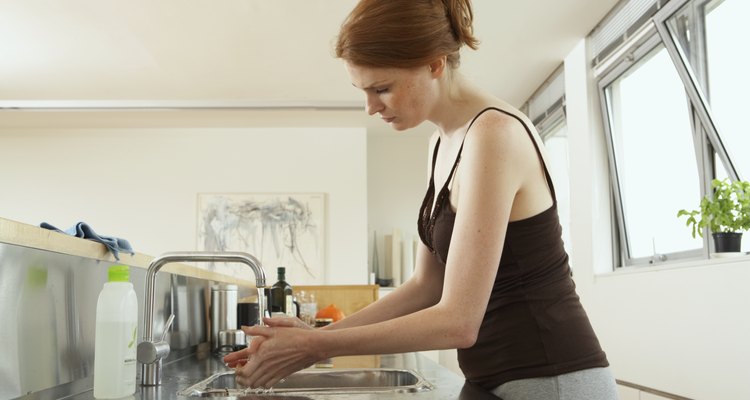 Tay Jnr/Digital Vision/Getty Images
Mitchell & Ness manufactures sports jerseys for football, basketball, baseball and hockey teams, so fans can show their loyalty by wearing an authentic sports jersey. The best way to keep your authentic sports jersey from Mitchell & Ness clean without compromising its quality is to dry clean it. However, if you're not able to dry clean it, you can try to clean it yourself using mild cleaning methods and products.
Pre-treat tough stains before washing for optimal success cleaning your jersey.
Mix a mild pre-soak laundry product and water in a tub following the manufacturer's directions, then lay your Mitchell & Ness jersey in the tub to soak for 30 minutes. Soak garments with blood or grass stains in cold water and those with grease or oil stains in warm water, advises the Coin Laundry Association.
Alternately, cover the stained area with your gentle laundry cleaner just before washing, instead of soaking it. Choose either pre-treating method for your jersey.
Remove the soaked Mitchell & Ness jersey from the tub and place it directly in the washer. If you did not need to pre-treat your jersey for stains, simply place it in the washer.
Set the wash cycle to gentle and the temperature to cold. Add a gentle fabric cleaner.
Run the washer for the length of its cycle.
Set the dryer to tumble dry. Using heat may shrink the jersey. Run the jersey through the dryer on tumble dry until it becomes dry. Alternately, hang the jersey on a drying rack and allow it to dry naturally.
References
Writer Bio
A successful website writer since 1998, Elton Dunn has demonstrated experience with technology, information retrieval, usability and user experience, social media, cloud computing, and small business needs. Dunn holds a degree from UCSF and formerly worked as professional chef. Dunn has ghostwritten thousands of blog posts, newsletter articles, website copy, press releases and product descriptions. He specializes in developing informational articles on topics including food, nutrition, fitness, health and pets.
Photo Credits
Tay Jnr/Digital Vision/Getty Images