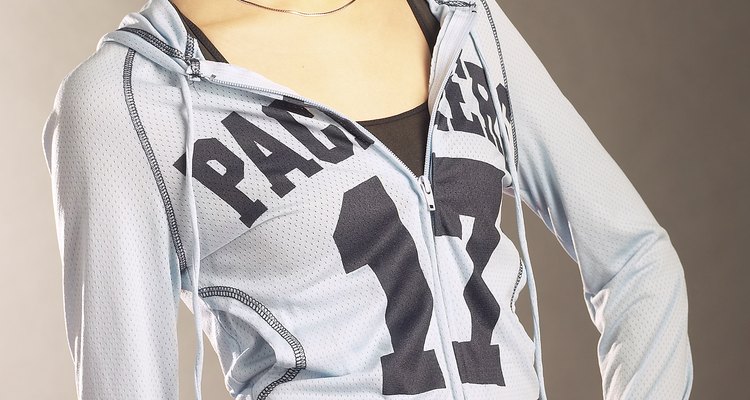 Photos.com/AbleStock.com/Getty Images
After numerous washings, printed size tags on the inside of a hoodie -- a sweatshirt with a hood -- will wear away leaving you to guess what the size it actually is. You can find out what size the hoodie is with the help of a tape measure. This will allow you to find out what size to buy hoodies in in the future and it will help you determine if it will fit another individual if it is going to be handed-down.
Lay the hoodie out on a flat surface. The front should be facing up.
Measure the length of the front of the hoodie from shoulder to hem. Divide this measurement in half and measure that length from the shoulder toward the hem.
Measure the width of the hoodie at the point the tape measure ends.
Transfer the width of the hoodie to the corresponding size. If the width is 20 inches, the hoodie is a size small. If the width is 22 inches, it is a medium; if it is 24 inches, it is a large. For an extra-large, the width is 26 inches and for an extra extra-large, the width is 28 inches.
References
Writer Bio
Laura Nations started writing professionally in 2008 for Lost Girls World and "The Menagerie." She also has experience creating marketing materials for non-profit organizations like Surf City Animal Hospital. Nations holds a Bachelor of Arts in English from the University of North Carolina at Wilmington.
Photo Credits
Photos.com/AbleStock.com/Getty Images