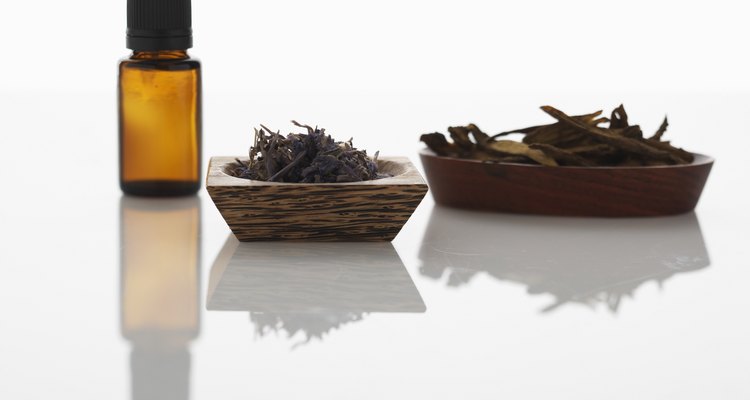 Thomas Northcut/Photodisc/Getty Images
Rose hip skin tonic is a simple, natural skin tonic that will help soothe irritated skin and add life to dull skin. Rose hips are also full of vitamin C, which can greatly help the skin's elasticity when used for a long period of time. Making your own rose hip skin tonic can also be a fun project for a group of friends, and it makes a great gift, especially when packaged with a group of other homemade skin or hair care products.
Pour 2 cups of distilled water into a small saucepan. Boil the water over high heat.
Place 2 tbsp. of rose hip powder in a small, heat-proof glass mixing bowl. Pour the boiling distilled water over the rose hip powder. Mix with a wooden spoon or a glass stirrer. Let the mixture steep for 20 minutes.
Strain the contents of the mixing bowl through a fine-mesh sieve, reserving the liquid in a clean mixing bowl or a saucepan. Allow the mixture to cool to room temperature. Add 2 tbsp. of witch hazel and 3 drops of lavender essential oil to the reserved liquid.
Transfer the rose hip and lavender skin tonic to a plastic bottle with a fine-spray mister. Store the skin tonic in a cool, dry place between uses.
References
"Organic Body Care Recipes;" Stephanie Tourles; 2007
"Natural Beauty Basics;" Dorie Byers; 2001
Writer Bio
Christopher Godwin is a freelance writer from Los Angeles. He spent his formative years as a chef and bartender crafting signature dishes and cocktails as the head of an upscale catering firm. He has since ventured into sharing original creations and expertise with the public. Godwin has published poetry, fiction and nonfiction in publications like "Spork Magazine," "Cold Mountain Review" and "From Abalone To Zest."
Photo Credits
Thomas Northcut/Photodisc/Getty Images