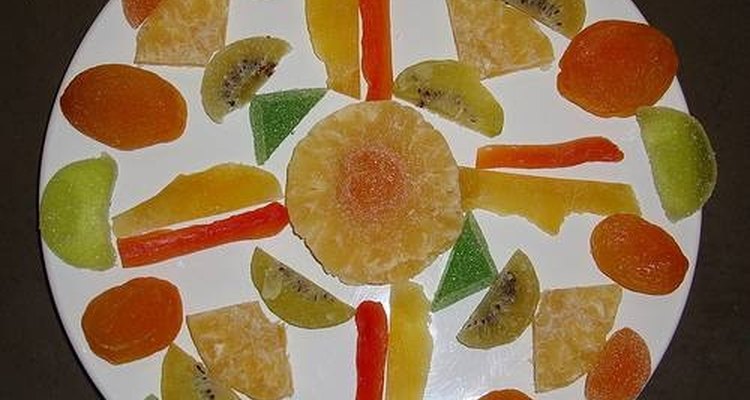 MollySVH
Making your own dried fruit is simple and healthy for you. When you add glaze to your dried fruit you have a snack that's not very healthy but sure is delicious. Adding glazed dried fruit to cakes and cookies can give deserts a better look and taste. Drying the fruit takes a little time but the glaze can be done quickly. Decorate your next cake with glazed dried fruit and give your family a tasty treat.
Select fruit that are ripe but not over ripe and don't have any blemishes or bruises.
Preheat the oven to 150 degrees F. Get a cookie sheet and put a piece of parchment paper on it. Waxed paper can be used instead of parchment paper.
Wash the fruit in cold water and then pat dry with some paper towels. Next, slice the fruit up making sure that the pieces are about the same size. This will help all the fruit to dry at the same pace.
Place the sliced fruit on the prepared cookie sheet. The fruit should be in a single layer without touching each other.
Put the sheet of fruit in the oven and open the door just a little. Leave in the oven between 10 and 12 hours. The fruit will be finished drying when it's chewy but not crunchy or squishy. Take out of the oven and let cool completely.
Get a large pot and fill it half way with ice and water. This will help to cool down the glaze when it's done cooking. Sit the pot with ice water in the sink. Also, place a piece of parchment paper on a cookie sheet or flat baking pan.
Add the water and sugar to a medium sauce pan and cook on the stove at medium heat. Stir until the sugar is dissolved. Add the corn syrup to the sugar water and stir together.
Cook the glaze for 15 minutes, stirring occasionally. Take the pan off the burner and carefully sit in the pot of ice water. You don't want any of the water in your glaze.
Take the pan of glaze out of the ice water after 4 or 5 minutes. Use the paint brush to coat both sides of the dried fruit. You can also use tongs to hold on to the fruit and then dip it into the glaze. Set the glazed fruit on the cookie sheet and wait until the glaze dries before eating.
Writer Bio
Maryelser is a full time freelance writer. She specializes in cooking, gardening and crafts and has published numerous articles on eHow.com.
Photo Credits