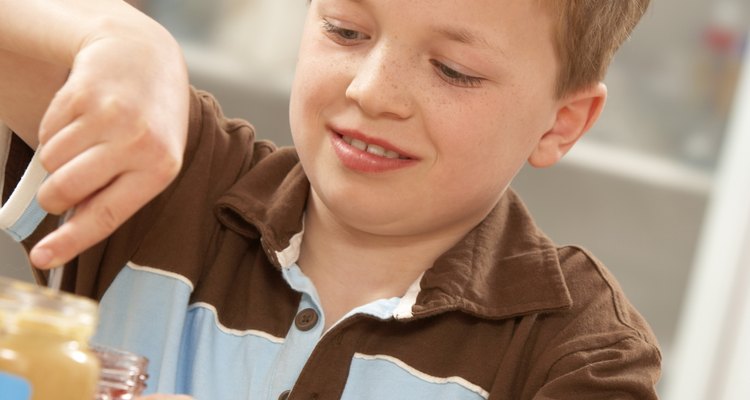 BananaStock/BananaStock/Getty Images
Peanut butter and tuna fish both make nutritious lunches for your kids. As a quick way to pack in protein, a peanut butter or tuna sandwich will give your child the energy he needs to get through the day. Neither is without its health risks, but choosing the right products and amounts will ensure your kids eat a healthy lunch. Use peanut butter or tuna in creative ways to vary your child's lunch menu throughout the week.
Peanut Butter Facts
Peanut butter is an excellent source of protein, iron, niacin and fiber. A lunch that includes peanut butter will provide your kids with energy for the school day, although many school lunchrooms ban peanut butter because of allergy concerns. Many store-bought peanut butters contain high levels of palm oil, saturated fats, salt and sugar. Find a healthy or natural variety of peanut butter that contains only peanuts. Natural peanut oil will separate in healthy peanut butters, but it is worth it for the health benefits. You can combat this separation by storing your peanut butter upside down for a few days before you open it.
Tuna Facts
Peanut butter has a leg up on tuna in terms of fiber, but where tuna wins out is in Omega-3, which is good for the heart and cholesterol levels. Tuna is also high in vitamin B6. Canned tuna fish, however, can be high in sodium, so avoid giving your kids too much. Tuna also carries the risk of containing high levels of mercury. Because of this, you should limit your child's consumption to 1 oz. of canned tuna per week for every 12 lbs. that he weighs.
Peanut Butter Ideas
In addition to the obvious -- peanut butter sandwiches with jelly, honey or banana -- there are many ways you can put peanut butter into a child's lunch. Make ants on a log as a side dish by spreading peanut butter on celery sticks topped with raisins. Mix peanut butter into creamy salad dressing to give it some extra flavor. Make a noodle salad with spaghetti, peppers and zucchini with peanut better and sesame oil mixed in.
Tuna Ideas
You can dress up a regular tuna sandwich by adding peppers, onion and sun-dried tomatoes. If you are making lunch at home for your kids, make an easy tuna melt. Simply mix tuna with some creamy dressing, put on bread with tomato and cheese and broil for a few minutes. Add tuna to a regular green salad and serve at home, or put it in a resealable plastic container for a school lunch. Tuna also makes a healthy and delicious pizza topping for your kids' lunch.
References
Writer Bio
David Coodin began working as a writer in 2005, and has been published in "The Walrus." He contributes to various websites, writing primarily in the areas of education and art. Coodin holds a Ph.D. in English literature from York University in Toronto.
Photo Credits
BananaStock/BananaStock/Getty Images