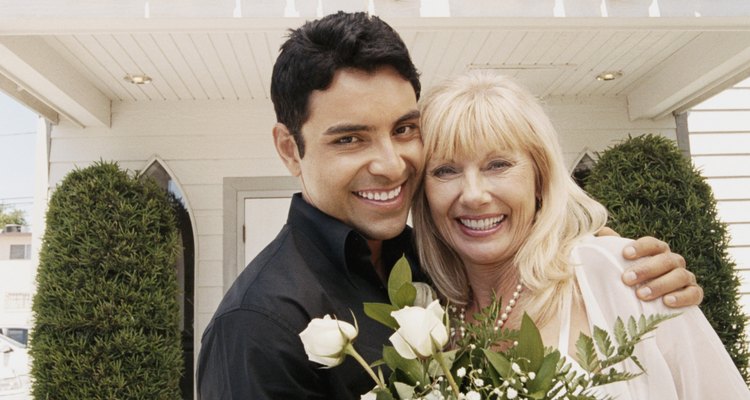 Digital Vision./Photodisc/Getty Images
When you are experiencing marriage difficulties, it's often hard to determine if your marriage is salvageable. Every marriage has its good and bad days, but when the bad days outweigh the good ones, you could be tempted to give up. Consider the following indications as evidence that your wife wants to stay married and will work with you to improve your relationship.
Listen Closely
Listen closely to what your wife has to say when you ask her if she is committed to the relationship. If she uses phrases such as "I need," "I want," "I have" or "I ought" to stay in this relationship, she is showing signs that she is committed enough to work on the relationship, according to sociologist Michael P. Johnson in "Reasons to Stay Married" on the Marriage Helper 911 website. Other questions you can ask include: "How do you feel about our relationship?"; and "Are we working together toward a common goal on this?" Positive, committed responses signal that your wife wants to stay married.
Actions Don't Lie
Your wife's actions can tell you about her commitment to the marriage. If she spends time with you, works positively toward change in your marriage and respects you in word and deed, she's committed to you and the marriage, according to a "Woman's Day" article, "9 Signs Your Marriage Might Be Over." Additional signs that she is still committed to making the marriage work include behaving like a team player on mutual goals and tasks, compromising to find workable solutions and remaining true to your marriage vows.
Positive Attitudes
Optimistic attitudes about your marriage indicate that your wife is still pledged to the relationship, according to social worker Susan Pease Gadoua in the article, "How Do You Know If You Should Stay or Go?" If she is willing to take risks and work to get the results she wants, she likely won't settle for something less than a healthy marriage. When she considers the needs of everyone in the marriage, including the kids, before she makes her choice, there is hope that your marriage will survive a rough patch. However, consistently expressing fear or focusing solely on her needs may be an indication that her commitment to the marriage isn't strong.
Your Interactions
If your interactions display mutual trust, care and concern, kindness and love, the prognosis for your relationship is promising, according to Gadoua. Other characteristics Gadoua says she looks for when determining the health of a relationship are honesty, a sense of safety and mutual respect. If you continue to share common interests and goals and a healthy communication pattern, you have things that still connect you both to the marriage. Take heart and express your positive connections to encourage both of you to create the marriage of your dreams.
References
Writer Bio
Rev. Kathryn Rateliff Barr has taught birth, parenting, vaccinations and alternative medicine classes since 1994. She is a pastoral family counselor and has parented birth, step, adopted and foster children. She holds bachelor's degrees in English and history from Centenary College of Louisiana. Studies include midwifery, naturopathy and other alternative therapies.
Photo Credits
Digital Vision./Photodisc/Getty Images