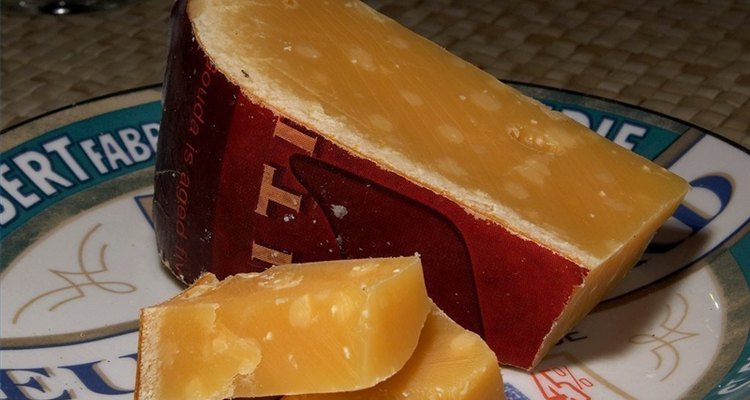 Jon Sullivan
Gouda is a cheese named for the Dutch city of Gouda, though "Gouda" has become more of a broad term and not associated with the city. Though Gouda cheese originated in Holland, it is made in countries all over the world including Australia, New Zealand, Israel and Sweden. In America, Gouda is produced mainly in Wisconsin and New York state.
Classification
Gouda is defined as a semi-hard cheese; these types of cheeses usually have a mild flavor, though can sometimes be smoked for a richer taste. Gourmet Gouda may be flavored with herbs, cracked pepper or garlic. Other semi-hard cheeses include havarti, mozzarella and provolone. Semi-hard cheeses are ideal for cooking because they melt easily.
Historic Rituals
In a tradition dating back to 1668, farmers from neighboring towns would bring their cheese to the "Waag" or weigh house in the town of Gouda. Every Thursday morning, a "cheese weighing" ceremony took place and became a bonafide tourist attraction; participants even got to sample genuine Gouda cheese. In 2006, the old waag house was turned into a cheese museum, where there are demonstrations on how to make Gouda cheese, Gouda candle dipping and the chance to get weighed on the cheese scales every Thursday.
Preparation
Gouda is made from cow's milk that is heated and cultured until the whey and curds separate. The curds are gathered and pressed into round molds that resemble wheels. The mixture sets for a few hours before it is soaked in a salty brine solution, which prevents bacteria and gives the cheese its distinctive flavor. The cheese dries out for a few days before it is coated in paraffin wax, typically red or yellow, which seals in moisture. Gouda can be aged for a few days or for over a year.
Types
There are four types of Gouda; baby Gouda, which usually has a red wax coating and an extremely mild flavor because of its minimal aging time; goat's milk Gouda, which has a sharper taste due to the use of goat's milk instead of cow's milk; American Gouda most resembles the Dutch original and can be found in most supermarkets. Covered in black wax, aged Gouda is cured for two years and is considered a rarity among cheese experts.
Eating Gouda
Gouda can last in the refrigerator for one month. Gouda can be used on baked potatoes and as a cheddar substitute in macaroni and cheese. Gouda can also be paired with bread or crackers and fruit along with chardonnay or beer. On a cheese platter, Gouda can be served along with a bleu cheese such as Stilton and soft cheeses like brie or camembert.
References
Writer Bio
Bianca Allen is a freelance copywriter living in Chicago. She was a public relations and advertising professional for ten years before turning her attention to writing full-time. She holds a Bachelor of Science in broadcast journalism from the University of Miami in Florida and her work has appeared in several local magazines and newspapers.
Photo Credits