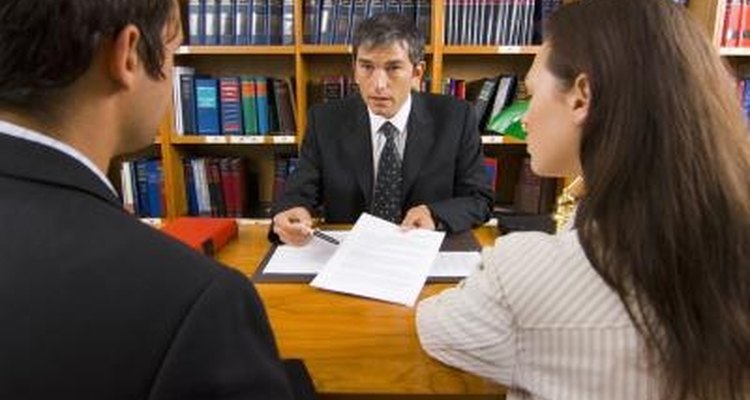 Pixland/Pixland/Getty Images
If you are married to a mean husband and are considering getting a divorce, there are multiple things you must consider. If your husband in verbally or psychologically abusive, deciding to get a divorce can be one of the healthiest decisions you've ever made, even if it is difficult. There are numerous steps that one must consider when deciding to divorce, however with some patience and a solid support system, the divorce process can be less painful of a process than one might think.
Decide what attorney you would like to use. In situations where you are divorcing a mean husband, it is more than likely that you will need an attorney to work out disagreements as attorneys are able to negotiate on your behalf. Always contact an attorney right away prior to making divorce related decisions.
Research your state's divorce laws. Some states require a six month separation period prior to divorce, while others provide a simple divorce process that allows couples to dissolve their marriage quickly. Some states may also require you and your husband to attend marriage counseling.
Visit your city or county clerk's office to obtain divorce petition papers, and fill them out. Notify your husband or have your attorney do it for you.
Determine how you want to divide your assets. These include items, vehicles and properties you and your husband own together. Some couples decide to sell their assets and divide the proceeds.
Determine if child support will be needed, or if you feel your husband should be responsible for giving you money for any other reasons. In cases where there is infidelity or abuse, men are more likely to be required to pay a set amount of money or monthly payments.
Review your financial situation and consider whether or not you are able to financially support yourself. Attempt to pay off any debts before divorcing your husband. This will allow you to make a fresh start post divorce, with little debt to your name.
Find a way to support yourself financially. You may receive alimony, or you may need to find a new career to support yourself. If you have children with your husband, you should receive child support payments from him as outlined in your divorce papers.
References
Tips
Make sure to always make copies of everything you use or obtain during the divorce process, including any important documents from that last three years of your marriage.
Photo Credits
Pixland/Pixland/Getty Images