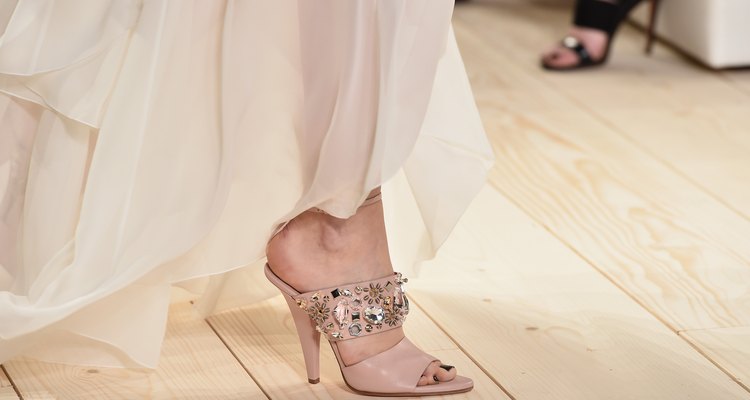 Pascal Le Segretain/Getty Images Entertainment/Getty Images
Clogs and mules are in the same family of shoes, and it's an old, well-respected family -- both styles have been around hundreds of years. Mules are always backless, and clogs usually are, though some styles have a strap to keep them on for safety and comfort.
Clogs Are Hard Workers, for Function and Comfort
motimeiri/iStock/Getty Images
Clogs had their start as Holland's wooden shoes. They can be any shoes with closed toes and open backs -- though some have straps to keep them on comfortably -- and they usually have a sturdy wedge heel. The heel might be of cork instead of wood, and the shoe itself could be leather, suede or resin. Some are waterproof or have warm linings for cold weather. Wear these platform-sole shoes with casual or outdoor outfits; some thick-soled styles of clogs even have closed backs, and are geared toward career comfort for those who stand a lot.
The Highs and Lows of Mules
Mules, which also date back centuries in Europe, have open or closed toes, open backs, and any heel height, from flat to kitten to stiletto. From maribou trimmed slippers in the '50s to high-heel Candies in the '90s, they've had many a fashion moment, including a multifaceted revival in the 21st century. Depending on the style, they can go anywhere from a backyard barbecue to the red carpet -- but comfort isn't usually their strong suit.
References
Writer Bio
Bonny Brown Jones has been a writer, columnist, copy editor and senior copy editor for newspapers that have included the "Orlando Sentinel," "Miami Herald" and "Columbus (Ohio) Dispatch." Jones has a Bachelor of Arts in English from Ohio State University.
Photo Credits
Pascal Le Segretain/Getty Images Entertainment/Getty Images