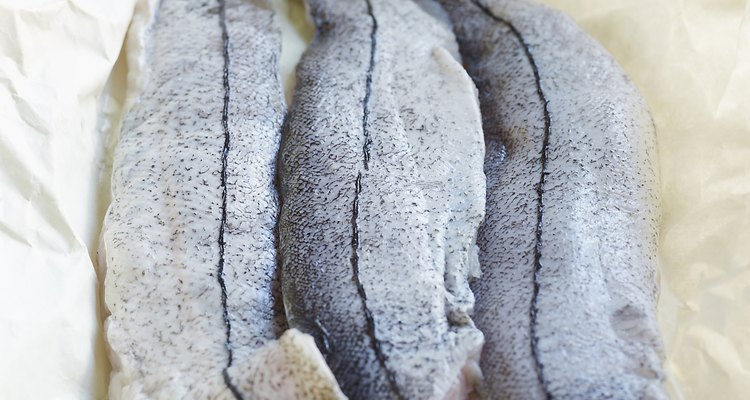 Alexandra Grablewski/Digital Vision/Getty Images
A firm, white, lean fish, haddock is packed with protein. Skinned fillets offer virtually no fat, making the fish ideal to grill or bake. Haddock is also a common basis for fish and chips. While fresh haddock may be purchased at some markets, it is often found in the freezer section. There are a few ways to safely defrost the fish.
Fridge Method
After removing your haddock fillet from the freezer, place the wrapped fillet on a dish in the fridge overnight. While exact thawing times vary due to thickness, the fillet will be ready the next morning. If thawing multiple fillets, make sure they are spread in a single layer on the plate.
Quick Method
If you need to defrost the fillet quickly, remove the haddock from the freezer and submerge it in a bowl of cold water while in a sealed plastic bag. Make sure to replace the cold water every two hours until the fillet is thawed. If thawing multiple haddock fillets, use different bowls for each, allowing them to defrost faster than they would in one larger bowl.
Microwave Method
It is acceptable to use the "defrost" function on your microwave if the fillet is going to be immediately cooked, according to the U.S. Food and Drug Administration. Set the defrost function according to the weight of the fish, and check it constantly. You want to remove the haddock fillet when it is still icy and cold -- before it's begun the cooking process.
References
Resources
Writer Bio
Scott Damon is a Web content specialist who has written for a multitude of websites dating back to 2007. Damon covers a variety of topics including personal finance, small business, sports, food and travel, among many others.
Photo Credits
Alexandra Grablewski/Digital Vision/Getty Images