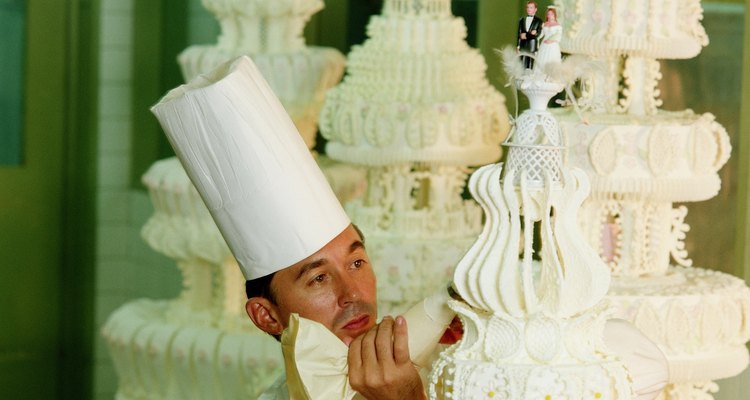 NA/Photos.com/Getty Images
Marshmallow cream icing works well as a stand-in for traditional buttercream frosting when decorating cakes and cupcakes. Some marshmallow cream icing recipes produce icing that's a bit soft, so adjustments must be made if you want the frosting to hold shape, such as when piping shell borders or similar designs. Leftover icing can be stored in an airtight container in the refrigerator for about two weeks.
Making the Icing
Marshmallow cream icing starts with a jar of marshmallow cream that is amended with powdered sugar, butter and vanilla flavoring to make a smooth frosting. If you want soft icing that's easy to spread on a cake, use about 1 to 2 cups of powdered sugar, 1 cup of butter and vanilla to taste for every 7 ounces of marshmallow cream. Increase the amount of sugar by about 1/2 cup per 7 ounces of marshmallow cream and decrease the butter by up to half if you want to pipe decorations on a cake.
Tinting the Marshmallow Icing
marshmallow icing is pure white when made, which works well for plain white cakes or if you want the appearance of snow. If your cake design requires other colors of icing, you can tint it just as you would with regular buttercream icing or royal icing. Mix in a drop or two of food coloring at a time to slowly work up to the desired shade. Use gel or powdered food coloring if you want to maintain a thick consistency, as liquid food coloring thins out the icing. Bright red is the most difficult shade to achieve, requiring the most food coloring, but you should tint the frosting gradually. While the color might look dull, icing colors tend to intensify as the icing rests.
Icing a Cake
Marshmallow cream icing works well for a crumb coat to seal in crumbs before decorating, or for the final coat of frosting, using an icing spatula to spread it smoothly over the cake. Even when made soft and spreadable, marshmallow icing can be sticky and stiffen, particularly at cooler temperatures. Keep a cup of hot water on the counter as you decorate the cake. Dip the icing spatula in the hot water to warm the blade. Wipe off any excess water before spreading the icing. The warm blade slightly melts and softens the sugar, butter and marshmallow so you can spread it more easily.
Piping With Marshmallow Cream Icing
Marshmallow cream icing can be rather sticky and can even clog decorating tips, particularly if you let the tip rest for a while between piping designs. For best results, use a coupler with your decorating bag so you can easily remove the decorating tip, rinse out the sticky gunk in warm water and replace the tip to continue decorating. The actual process of piping designs or writing messages is the same as with regular buttercream frosting. Hold the bag just above the cake surface and squeeze with firm pressure to push the icing through the tip. Try a round decorating tip for writing, a shell tip to pipe borders around a cake or a star decorating tip to fill in areas with star-shaped dots or to top cupcakes with textured swirls.
References
Writer Bio
A former cake decorator and competitive horticulturist, Amelia Allonsy is most at home in the kitchen or with her hands in the dirt. She received her Bachelor's degree from West Virginia University. Her work has been published in the San Francisco Chronicle and on other websites.
Photo Credits
NA/Photos.com/Getty Images