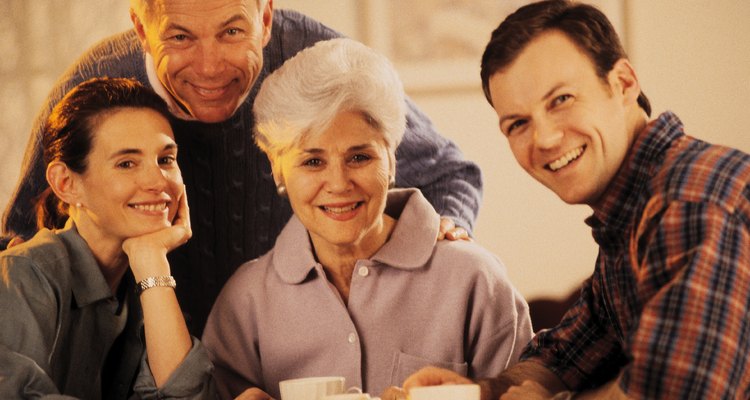 Comstock/Comstock/Getty Images
Dating a "momma's boy" can spell bad news for your relationship. If a man is too reliant on his mother it creates a triangulated relationship that causes resentment, according to clinical psychologist Seth Meyers. Signs that your partner has a codependent relationship with his mother include avoiding confrontation with her, taking her side, an inability to say "no" to her and not allowing anything negative to be said about her. If this describes your partner, it's important to know how to approach him about the situation and what to expect.
Evaluate the Situation
Consider whether your partner's codependency is a deal-breaker, suggests Meyers. You may not need to break up with him -- instead, try to see him as a person with limitations. Codependent relationships between mothers and sons often develop in situations where the mother is a single parent or the father is emotionally estranged, explains certified life coach and dating expert J. Cameron Gantt. The mother recreates the lost relationship via her son, causing an unhealthy dynamic. This is a highly charged situation that you can't alter -- change must come from your partner. Knowing this may help you cope.
Communicate
Your partner may not realize that their codependency is hurting his relationship with you. Be direct but calm about your feelings -- he is likely to be defensive about his mother. Meyers recommends letting him know that he should prioritize you over his mother -- at this point in your lives, it's only natural. Again, choose your words carefully, such as, "I realize that your mother is an incredibly important part of your life. I just feel like I always come second. Can we talk about how you might feel comfortable adjusting this balance?" Don't bring up the issue with his mom. Codependency is their issue to discuss and work out among themselves, not for you to fix.
Ask Him to Set Boundaries
Gently ask him to set boundaries with his mother. Be direct about your needs but be realistic about what he can achieve. For example, ask if you three can have dinner together once a month as opposed to every weekend. Relationship expert Dr. Phil recommends he be specific about when his mother is invited into your lives and when she isn't. Your partner also needs to demonstrate to his mother that he's loyal to you first and foremost. The reality is that no matter what you say, he has to communicate these boundaries to her and be willing to change their dynamic. A therapist might help him to make the necessary changes.
When to End It
It's possible to change a momma's boy, but it's also important to know when the relationship can't survive his codependency. The younger he is, the better the outlook. As long as he's taking steps to better his codependent attachment as he ages, you can breathe easy. Generally, however, if you've talked to him a few times and he still won't admit that their relationship needs a tune-up, it's time to bolt and look for a partner who can deliver you the respect and love you deserve.
References
Writer Bio
Alana Vye is a Canadian writer living abroad. She had a Bachelor of Arts in English literature from the University of Toronto and has worked in online marketing and publicity. She's also an avid traveler who has visited Asia, Europe and Central America.
Photo Credits
Comstock/Comstock/Getty Images