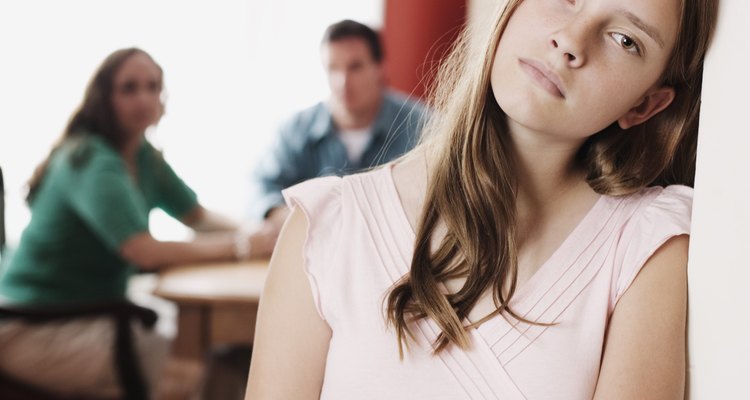 Jupiterimages/Stockbyte/Getty Images
So you're dating a great guy with a promising future, but there's one person who could make or break your relationship -- his teenage daughter. Being a teen with a dating parent can feel awkward and uncomfortable. Dating is also a balancing act for parents trying to stay connected with their teen while looking for new romance, according to the article, "Surviving (Your Child's) Adolescence," by psychologist Carl Pickhardt in Psychology Today. Women may have a bigger challenge bonding with a partner's kids than men. Constance Ahrons' research, "Family Ties After Divorce: Long-Term Implications for Children," found children have a more difficult time adjusting to a stepmother than a stepfather. Even though winning over his daughter may be a challenge, there are some ways to increase your chances for success.
Respect Their Time Together
After divorce the majority of children live with their mother. If your boyfriend is the noncustodial parent and only sees his teenage daughter every other weekend, avoid intervening with his parenting time. Cancelling plans with his daughter to go out with you may cause her to feel abandoned and rejected. Trying to get your boyfriend to spend time with you instead of his daughter, may make him feel pressured. It's best to plan your dates for the weekends he does not have parenting time with his daughter.
Stay Under the Radar
Don't be in a hurry to meet your boyfriend's teen daughter. Until you know the relationship is getting serious, there's no need to start forming a relationship. Even though a teenager is less likely to quickly form an attachment to a father's girlfriend the way a younger child would, it can still be confusing if she starts to like you, and then things don't work out. When you do meet her, get to know her at her pace.
Let Dad Be the Disciplinarian
If things get serious and his daughter starts spending a lot of time around the two of you, let your boyfriend enforce the rules. Some teens resist the idea of a parent dating someone new and may act out to try to cause friction. If she does break rules and behaves badly, let her father deal with her. The worst thing you can do is engage in an argument with his daughter and force your boyfriend to side with either you or her. It's best to try to play the role of a counselor or friend until you establish a bond, according to the American Psychological Association article, "Making Stepfamilies Work."
Don't Try to Mother Her
Even if you get along great, remember that you are not her mother. Never undermine her mother by letting her do things her mother would not or talking badly about her. If she confides in you about something personal, encourage her to talk to her mom. Don't worry if his daughter doesn't express affection toward you. Most teens prefer to separate from their families as they start forming their own identities.
References
Writer Bio
Sharon O'Neil has been writing professionally since 2008. Her work has been published on various websites, including Walden University's Think+Up. She has worked in international business and is a licensed customs broker. She is currently a supervisor with a social service agency that works with families to prevent child abuse and neglect. She obtained a Bachelor of Science in business from Indiana University.
Photo Credits
Jupiterimages/Stockbyte/Getty Images