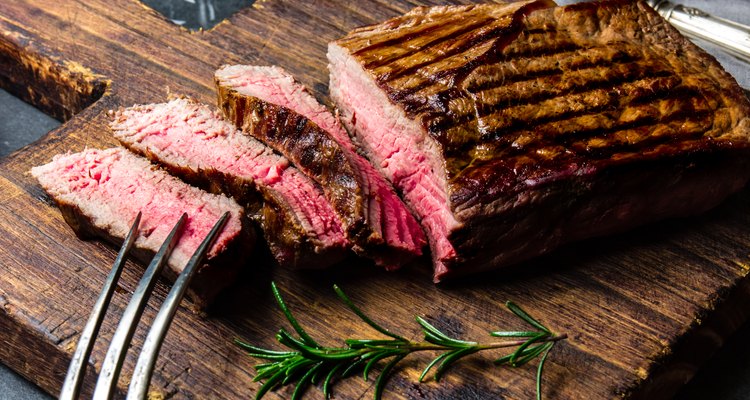 LarisaBlinova/iStock/GettyImages
You don't need a grill to cook a moist, delicious, perfectly medium-rare slab of meat. Top sirloin steaks, which are taken from the cow's loin, are especially flavorful cuts. Although top sirloin isn't quite as tender as tenderloin, it's still one of the more tender cuts. Because top sirloin often runs on the thin side for a steak, it comes to medium-rare quickly and is easiest to sear without finishing in the oven.
Salt the top sirloin steak liberally about 45 minutes before preparing it. This gives the salt enough time to draw moisture from the meat and for it to be reabsorbed and impart saltiness. The coarse grains of kosher salt or sea salt make them good choices. Leave the steak out on the counter from to eliminate the meat's chill. Pat on any additional desired seasonings, such as pepper or thyme, right before cooking.
Heat up a large heavy-bottomed pan for a few minutes over medium-high heat. Add a small amount of canola or other cooking oil and wait for it to become shimmering hot.
Lay the top sirloin steak in the pan. Sear the first side for 3 minutes; then turn the meat with a spatula or tongs. Sear the second side for 2 minutes; then reduce the heat to medium-low.
Measure the internal temperature of the steak with a meat thermometer; insert it into the center of the meat horizontally, as the steak is too thin for vertical insertion. Remove the steak if it's reached 125 to 130 degrees Fahrenheit for medium-rare; cook for another minute or so as needed.
Rest the steak for 10 minutes before cutting into it. If you don't, juices that escape the muscle fibers during cooking don't settle back into them, resulting in significant moisture loss when you cut the meat.
References
Tips
Keep beef below 40 F prior to cooking it. If you won't use fresh beef within three to five days of purchase, seal it in airtight packaging and freeze it.
Warnings
The USDA recommends cooking steak to 145 F.
Writer Bio
Eric Mohrman is a food and drink, travel, and lifestyle writer living in Orlando, Florida. He has professional experience to complement his love of cooking and eating, having worked for 10 years both front- and back-of-house in casual and fine dining restaurants. He has written print and web pieces on food and drink topics for Visit Florida, Orlando Style Magazine, CrushBrew Magazine, Agent Magazine, Dollar Stretcher Magazine, The 863 Magazine and other publications.