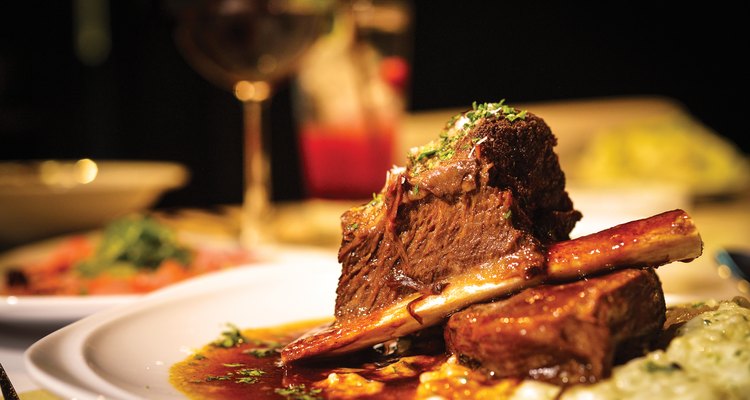 creativesunday2016/iStock/GettyImages
Braised Short Ribs, No Cleanup Required
Oven bags and beef short ribs make an ideal combo. Much like a Dutch oven, oven-baking bags help retain most of the moisture produced by the short ribs during cooking, essentially creating a self-basting braising dish. And the best part? No soaking, scraping or scrubbing a pan afterward.
To make the most out of an oven bag's ample volume, pack a few pounds of hearty vegetables in there along with the short ribs. Anything you would cook with a roast works. Mirepoix (carrots, onion and celery) is a given for its aromatic contribution, but consider building on it with a few hearty root vegetables and tubers, such as parsnips, Jerusalem artichokes, jicama and, of course, potatoes.
Total Time: 3 hours, 30 minutes | Prep Time: 30 minutes: | Serves: 4 to 6
1 to 2 tablespoons flour

1 turkey-size baking bag

5 pounds cross-cut (Flanken style) short ribs

Kosher salt and freshly ground pepper, to taste

2 tablespoons olive oil

2 onions, roughly chopped
2 carrots, roughly chopped
2 stalks celery, roughly chopped
Root vegetables and tubers, such as parsnips and potatoes, 1 to 1 1/2-inch pieces (optional)

1 tablespoon tomato paste mixed with 1 tablespoon water
6 thyme sprigs
1 bay leaf
4 sprigs rosemary

3 or 4 cloves garlic, halved (optional)
Heat the oven to 350F. Add the flour to the baking bag; for a rich gravy, add 2 tablespoons, otherwise use 1 tablespoon.

Season the short ribs to taste with kosher salt and freshly ground black pepper. Heat the oil in a saute pan on the stove over medium-high heat.

Working in batches, sear the short ribs until golden brown, about 15 minutes total. Add the short ribs to the baking bag along with the carrots, onions and celery.

Toss the other vegetables of your choice in olive oil and add them to the bag. Turkey-sized oven bags hold up to 24 pounds of food, so you can include about as many vegetables as you like.

Add the tomato paste, thyme, bay leaf, rosemary and garlic to the bag. Tie the bag, and spread the short ribs and vegetables out evenly.

Set the bag in a large roasting pan, tucking the ends of the bag in too. Cut four evenly spaced 1-inch slits in the top of the oven bag for venting, and place the pan in the oven.
Cook the short ribs for 3 hours. Take the pan out of the oven and cut open the top of the bag. Transfer the short ribs and vegetables to a serving dish.

References
Resources
Tips
Round out a dinner that's long on flavor with cole slaw or twice-baked potatoes, corn and chilled fruit.
Writer Bio
A.J. Andrews' work has appeared in Food and Wine, Fricote and "BBC Good Food." He lives in Europe where he bakes with wild yeast, milks goats for cheese and prepares for the Court of Master Sommeliers level II exam. Andrews received formal training at Le Cordon Bleu.