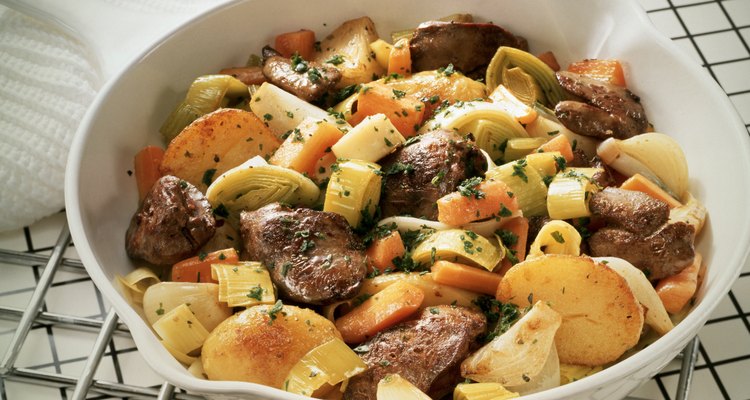 Eising/Photodisc/Getty Images
Preparing giblets -- the edible heart, gizzards and liver of poultry or game birds -- may seem daunting, but a microwave makes it easy. A few vegetables and seasonings cooked in the same container can turn giblets into a flavorful ingredient for other dishes. Next time you prepare your Thanksgiving turkey, save the giblets and cook them in a microwave for a quick addition to gravies, stuffing, soups, casseroles and stews.
Step 1
Pierce the membranes on the giblets with a knife to allow steam to escape while cooking. Place giblets in a microwave-safe casserole dish with a little water or chicken broth, along with chopped carrots, celery and onions. Add mushrooms, turnips or shallots, if you like.
Step 2
Season the giblets and vegetables with herbs and spices. Add salt and pepper, or experiment with other flavors, such as poultry seasoning, garlic powder, bay leaf, parsley, mace or curry. Include thyme and sage when cooking giblets for stuffing.
Step 3
Microwave the giblets on 50 percent power for approximately 30 to 40 minutes. When you're in a hurry, cook them on a high setting for less time, stirring halfway through the cooking cycle. Look for the giblets to be tender, with juices that run clear.
Step 4
Drain the giblets and refrigerate them until they're cool enough to handle. Set aside the vegetables and drippings from the giblets to use in other dishes. Once cooled, coarsely chop the giblets before adding them to other dishes.
References
Easy Livin' Microwave Cooking; Karen K. Dwyer
Tips
The U.S. Department of Agriculture recommends that all poultry parts be cooked to at least 165 degrees Fahrenheit, which you can measure with a meat thermometer.
Because liver can give broth a bitter flavor, add liver during the last minutes of cooking time, if desired.
Store cooked giblets and their stock for as long as three days in the refrigerator.
Warnings
Do not thaw frozen giblets at room temperature, because of the risk of foodborne illnesses. Thaw them in a refrigerator that is at 40 degrees Fahrenheit or colder.
Writer Bio
Bonnie Singleton has been writing professionally since 1996. She has written for various newspapers and magazines including "The Washington Times" and "Woman's World." She also wrote for the BBC-TV news magazine "From Washington" and worked for Discovery Channel online for more than a decade. Singleton holds a master's degree in musicology from Florida State University and is a member of the American Independent Writers.
Photo Credits
Eising/Photodisc/Getty Images