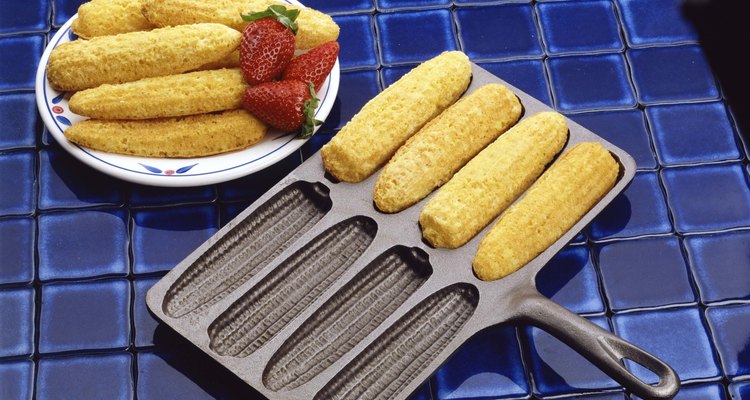 Jupiterimages/Comstock/Getty Images
Cornbread is a Southern specialty, and the traditional way to bake it is in a cast-iron pan. Cornbread, corn muffins and cornbread sticks are all similar -- all are made with cornmeal, are baked in a pan with individual compartments and all pair well with everything from pinto beans to collard greens. When you bake in a cast-iron muffin pan, using the pan correctly will ensure your muffins don't stick.
Cornbread in Cast Iron
Step 1
Wash the cast-iron corn muffin pan with warm water and mild dish soap before using it for the first time, even if it is brand new. Dry the pan immediately with a clean towel or place the pan in a 250-degree Fahrenheit oven until it is completely dry.
Step 2
Season your the pan with a light application of flavorless vegetable oil. Seasoning your cast-iron pan seasoned is important because the buildup of oil over time creates a naturally nonstick surface that will last for years.
Step 3
Coat the interior of each pan compartment with a light application of nonstick cooking spray or melted butter. Divide the cornbread batter among the compartments and bake according to recipe instructions. Cast-iron pans with deeper compartments will require longer baking time than those with small or shallow compartments, such as cornstick pans or wedge pans that are used to create different cornbread shapes.
References
Tips
If it's cold in your kitchen, place your empty pan into the oven while it preheats to warm it up because placing a cold pan into a hot oven might result in thermal shock and damage to the pan.
Season your cast-iron pan after every use to maintain its easy-release properties.
Experiment with cornbread variations: Include 1 cup of canned corn, a can of diced, green chilies or a handful of cheddar cheese to your cornbread mix.
If you notice a small amount of rust on your cast-iron pan, scour, rinse and re-season it with a small amount of vegetable oil.
Writer Bio
Aline Lindemann is a health, food and travel writer. She has also worked as a social worker, preschool teacher and art educator. Lindemann holds a Master of Liberal Studies in culture, health and creative nonfiction writing from Arizona State University.
Photo Credits
Jupiterimages/Comstock/Getty Images