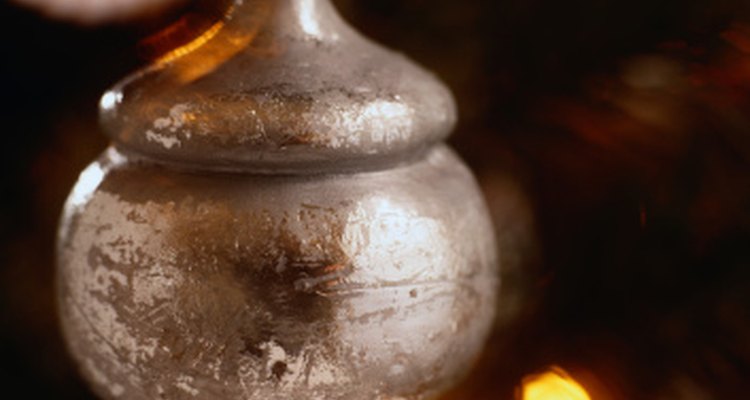 Ryan McVay/Stockbyte/Getty Images
Silver is a beautiful, lustrous metal, but both pure silver and its common alloys tarnish easily when exposed to the air. Tarnish is the unsightly black coating that forms on silver jewelry when it comes into contact with sulphur in the air. Contact with sulphur causes a chemical reaction that forms silver sulphide, which appears as a black layer on the surface of the jewelry. While this layer can easily be removed, it is best to prevent it from occurring at all by using tarnish-resistant coatings.
Electroplating
Electroplating is a common method used to apply a microscopically thin layer of protective metal on top of the silver to prevent it from contacting the air. In electroplating, an item is placed in a metallic acidic solution and and an electrical current applied. This causes a reaction where the metallic particles separate from the acid and adhere to the item being plated. Silver items are usually coated with rhodium, which does prevent tarnish, but tends to slightly reduce the reflectivity and sheen of the item.
Beneq nSILVER coating
nSILVER coating is a process developed by the Finnish company Beneq. This coating is a thin, transparent film made up of two components: aluminum oxide and titanium dioxide. When the coating is applied, it forms two separate layers. The bottom layer bonds to the silver, and the top layer acts as a barrier, protecting it from exposure to the air and liquids. This coating is designed to enhance the sheen on silver jewelry and is used by the Finnish jewelry manufacturer Kalevala.
Sheentek Cu 256
Sheentek Cu 256 is a clear, protective coating that can be applied to both silver and copper. The coating is applied by immersing the object in a bath of demineralized water that has had Sheentek Cu 256 added to it. Because it is free of chromates and lacquers, Sheentek Cu 256 is used widely as a coating for copper electrical items because it does not affect conductivity. Sheentek Cu 256 gives a bright, lustrous finish and is invisible once applied.
Other Methods to Resist Tarnish
Anti-tarnish paper is used to protect silver jewelry from tarnish by absorbing the chemicals in the air that cause it, particularly sulphur. Wrapping silver items in anti-tarnish paper when not in use will protect them from dulling and tarnish without harming them. Another alternative to prevent tarnish is to purchase silver that is alloyed with germanium rather than copper. Called Argentium silver, this alloy is marketed as being highly tarnish resistant, as well as being harder than traditional sterling silver.
References
Photo Credits
Ryan McVay/Stockbyte/Getty Images