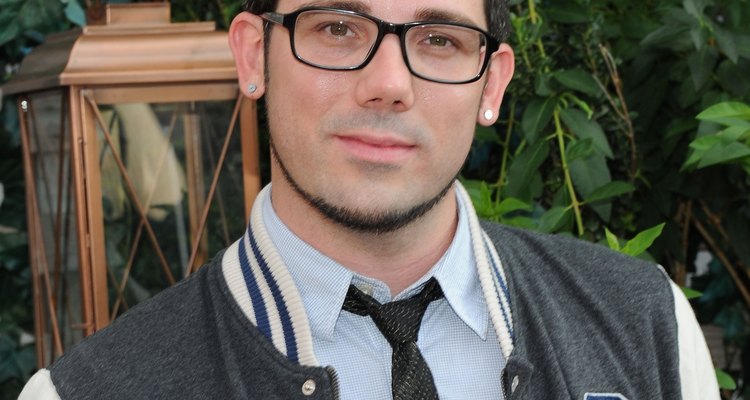 Jason Kempin/Getty Images Entertainment/Getty Images
For more than a century, letterman jackets have symbolized superior achievement in high school sports. The jacket's origin traces back to 1865, when Harvard's elite athletes first wore letters on their sweaters -- think Danny Zuko in "Grease." Over time, sweaters were replaced by varsity jackets, usually made of wool with leather sleeves -- fabrics that provide warmth and style, but don't necessarily wash or age well. If you have an old letterman jacket you want to renew, the right products are key to cleaning and shining up those signature leather sleeves.
Step 1
Check the fabric care label to ensure that the leather on your jacket is the real deal. Some jacket sleeves look like leather but are actually coated with polyurethane or vinyl and require a different cleaning method.
Step 2
Wipe a dry cloth across the leather to remove loose dirt and oil.
Step 3
Test the leather to ensure that it has a finish. Dab water on an inside sleeve seam. If the water sits atop the leather in tiny beads, the leather is finished and can be cleaned with water. If the water does not form beads, a wet cleaning may cause spotting. In this case, leave cleaning in the hands of a dry-clean or leather-care professional.
Step 4
Dip a soft, clean cloth into a tub of saddle soap, or a cleaning solution made from a dollop of baby shampoo or a dollop of gentle dish soap mixed in a large bowl of lukewarm water.
Step 5
Rub the cleaning solution into the leather, moving the cloth in gentle, circular motions. Continue rubbing until you can see no visible residue. The leather will absorb the cleaner with no need for rinsing.
References
Tips
To keep the leather on your high school letterman jacket looking its best, regularly apply a leather conditioner. Store the jacket on a padded hanger and cover it with a cloth garment bag or even a white sheet.
Warnings
Saddle soap, which is made from lye, fat and water, is specially formulated to clean leather, but if used too often, it can cause the leather to harden and the color to darken.
Writer Bio
Ivy Morris specializes in health, fitness, beauty, fashion and music. Her work has appeared in "Sacramento News and Review," "Prosper Magazine" and "Sacramento Parent Magazine," among other publications. Morris also writes for medical offices and legal practices. She holds a Bachelor of Arts in government-journalism from Sacramento State University.
Photo Credits
Jason Kempin/Getty Images Entertainment/Getty Images