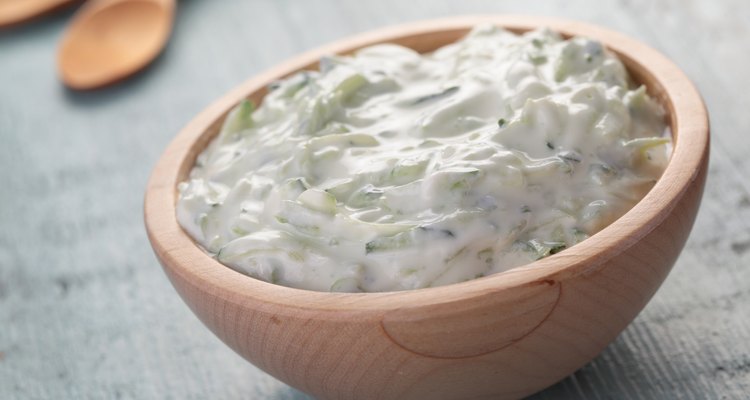 -lvinst-/iStock/GettyImages
Gyro sauce, or tzatziki, is a tangy and creamy accompaniment served cold. Cucumbers, garlic, dill, lemon mint, salt, pepper and Greek yogurt comprise some of the traditional ingredients. But in case you don't have Greek yogurt -- or any yogurt -- on hand, substitute it with another tangy dairy product, such as sour cream.
Sour Cream vs. Yogurt
Sour cream and yogurt are among a family of cultured, or fermented, dairy products. Kefir, buttermilk, creme fraiche and cheese are some others. Sour cream and yogurt are closer siblings in terms of flavor and texture, and sour cream's full-bodied flavor makes it a good substitute in gyro sauce. Use the same amount of yogurt or sour cream in place of the other in any recipe where either is required.
Advantages of Sour Cream
Unless you buy a low-fat alternative, regular sour cream tends to have more fat per serving than yogurt. This is an advantage where making tzatziki is concerned, because fat helps cut the tartness of the lemon juice and the bitterness of fresh chopped garlic. The fat in sour cream also conveys more flavor to your palate, functioning as a medium through which other flavors melt and flow.
Adjusting the Texture
Sour cream's texture is on the thicker side, roughly the same as heavy cream whipped to stiff peaks. This is because of the bacteria that ferment sour cream, Streptococcus lactis. As the culture ferments, lactic acid is released. This acid causes the dairy proteins to coagulate and also accounts for sour cream's signature flavor. To thin your sour cream gyro sauce, add some olive oil, water or more lemon juice -- to taste.
Using Sour Cream Tzatziki
Sour cream gyro sauce pairs well with any gyro recipe, its additional zing imparting the extra flavor that augments such low-fat options as boneless, skinless chicken or turkey breast, or seafood. Sour cream gyro sauce can stand in for mayonnaise or any sandwich spread. Spread it on sandwiches, in pita pockets, or on open-faced fish sandwiches. You can also use it as a dip for warmed pita bread, pita chips or raw vegetables.
References
Resources
Writer Bio
Born in New York City, Tremaine Jackson has been in theater, dance and music since age 12, when he appeared in Liz Swados' "Swing" at the Brooklyn Academy of Music. He is also an award winning children's recording artist. He writes fiction and poetry in his spare time.