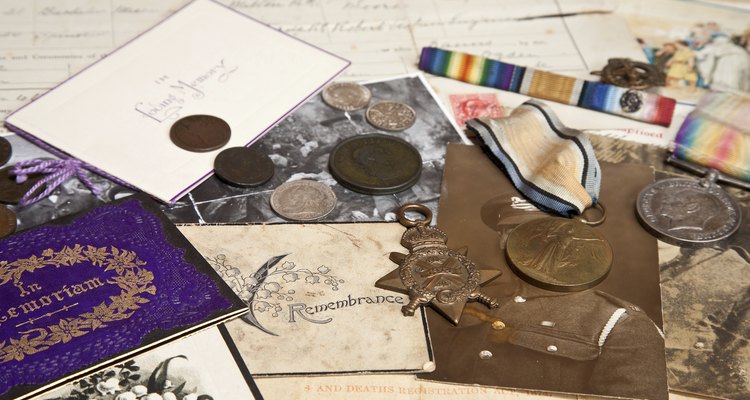 Ed Phillips/iStock/Getty Images
Finding your bloodline can prove to be as fulfilling as it is time-consuming, and each step will bring you closer to understanding your family and yourself better. To paraphrase the cliche, it is in knowing where you're coming from that you can determine where you're going. Besides talking to your relatives and perusing pictures and documents, you may have to expand your efforts and explore national archives, online genealogy websites and even genomic testing.
Start With What's Known
Write down what you already know about the births and deaths in the family. Gather as much information as you can through talking to your family members and other relatives. Record these memories and facts in video, audio or written format; you can go over this documentation later and save it for future generations as a family heirloom. Use this information to begin a family tree. If gaps exist and information is missing, you will have to find other means of discovering more.
Gather Documentation
Use all the documents you can find. The most significant documentation includes wills and birth, marriage and death certificates. While you might find some of these in your own home, you can uncover others in the homes of your parents or other relatives. Sometimes you can find family trees written inside the covers of old Bibles. Old photographs may also have information about the dates of birth or death written on the backs.
Consult Public Records
Search the government-controlled archives available at your local library, city hall or other government agencies. Look through physical records or search any available online databases. You can also check with any of the more than 3,000 counties for records on births, deaths, marriages, graves and voter searches. Some other organizations with databases that may prove helpful include the Bureau of Land Management, for actual records of land sales; newspaper archives, for obituaries; and the U.S. Census page or the Archival Research Catalog. The Ellis Island Foundation database holds records of passengers who arrived at the Port of New York between 1892 and 1924.
Explore Genealogy Services
Extend your search using privately run online genealogy databases that you can access for free or at a relatively low cost. The most popular of these include Ancestry.com, US GenWeb and Family Search. These sites collate data on births, deaths, marriages, military service and other records for countries all over the world. Even if your ancestors were Irish immigrants in the 1900s, you should still be able to find information. Some of these sites also have partnerships with government organizations and can allow you access to their databases. Access to some of these records usually comes at a cost.
Look Within Yourself
Consider DNA testing. Three main types of tests can be done for what is officially known as genetic ancestry testing or genomics. Y chromosome testing is only done on males to determine if families with the same last name are related. Mitochondrial DNA testing gives information about the females in your ancestral line. Single nucleotide polymorphism testing provides more specific information on your ethnic make-up. These tests look for specific DNA markers and compare them with the results from people all over the world. Limitations exist based on the range of the databases to which the test provider compares the results.
References
Resources
Writer Bio
Latoya Newman is a novelist who wrote and published her first novel in 2012. She has a background in education, research and counseling. She taught at the elementary level for eight years, and has a Bachelor of Arts in psychology from York University in Toronto, Canada.
Photo Credits
Ed Phillips/iStock/Getty Images