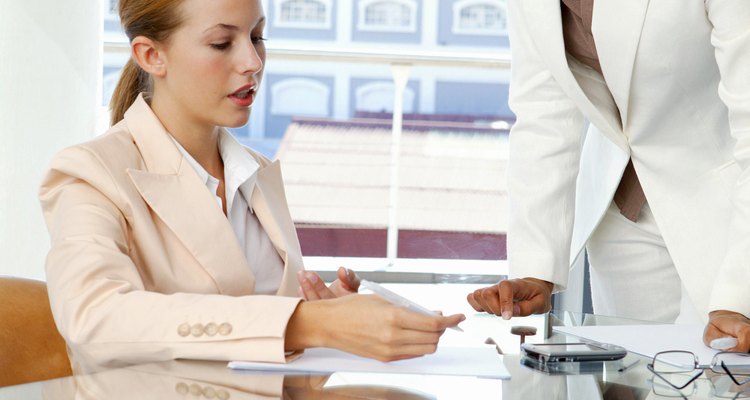 Goodshoot/Goodshoot/Getty Images
No one can do everything -- sometimes you need assistance. Asking politely and appropriately for a favor can improve the chances that you will receive help when you need it. Doing favors for friends and family when you are able encourages a favorable response when you need something.
Politeness Counts
Begin with "please" and end with "thank you" to make your request sound more like a favor and less like a command. Don't phrase your request negatively, such as, "I'm sure you probably can't, but could you please…?" That implies that you expect a negative answer or that you don't believe the person you ask is willing to help.
Appropriate Wording
Let the person know what you need in a simple and direct way and the reason you are asking, and provide a way for that person to respond either positively or negatively, suggests Jodi Glickman, founder of Great on the Job, a communication training firm. Your request might sound like, "Jenny, I need a favor, please. I'd appreciate it if you could water my outdoor plants twice while I'm out of town this week. I'll understand if it's not convenient, but I'd be grateful if you could. I can simplify the job so it takes about 10 minutes." Graciously accept a refusal, if it comes, with a "Thanks for considering it, anyway."
The Personal Touch
Whenever possible, ask face-to-face or over the phone, and ask in a timely manner so the person agreeing to the favor doesn't feel rushed. A text doesn't provide a personal touch and might come off sounding more like a command. If you get a positive response to your request, make your "thank you" just as personal, with a sincere verbal response, a gracious note or a small gift.
Business Requests of Strangers
You might have occasion to ask a favor of someone you don't know, such as asking your Congressional representative to champion a bill or requesting a charity donation. Ensure you clearly identify who you are, suggests business writing expert Lynn Gaertner-Johnston. If you're sending a written request, include the name and title of the person to whom you're making the request. Provide all the details necessary to answer and fulfill or refuse the request and a method of getting back to you. Keep your request polite and appreciative.
References
Writer Bio
Rev. Kathryn Rateliff Barr has taught birth, parenting, vaccinations and alternative medicine classes since 1994. She is a pastoral family counselor and has parented birth, step, adopted and foster children. She holds bachelor's degrees in English and history from Centenary College of Louisiana. Studies include midwifery, naturopathy and other alternative therapies.
Photo Credits
Goodshoot/Goodshoot/Getty Images